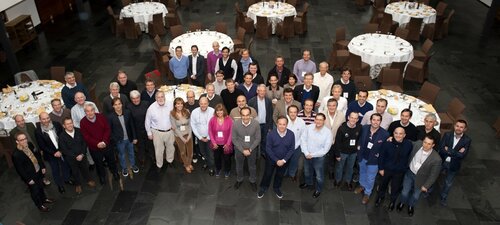 The first-ever European Periodontology Day was successfully launched in Madrid on May 12 at events supported by leading medical professionals from diabetes, cardiovascular and gynaecological societies.
Aimed at creating greater awareness of the association between periodontal disease and systemic conditions, this pilot for what organisers hope will become a showcase day for periodontology across all European countries attracted much nationwide media coverage in Spain.
Set up by the Spanish Society of Periodontology and Osseointegration (SEPA), under the aegis of the EFP, the centrepiece of the event was an informative question-and-answer session at the headquarters of the Spanish Royal Society of Medicine. Leading representatives of the medical disciplines most connected with periodontal conditions joined Spanish Ministry of Health officials in defence of the role of dentists as key operators in primary prevention for general health, not just oral health.
In addition to calling on all dental professionals to play a greater role in promoting healthy lifestyles and detecting and preventing general illnesses, Dr. David Herrera, President of SEPA, stressed that "the promotion of health needs support and the creation of synergies leading to treatment projects and health aims geared to boosting our commitment to patients and to society at large."
From the cardiovascular perspective, the General Secretary of the Spanish Cardiology Association, Dr. Miguel Ángel García Fernández, pointed out: "strategies aimed at modifying cardio and periodontal diseases share a common base: helping patients to manage and enhance their health through healthy habits and lifestyles."
Meanwhile, Dr. José Luis Herrera Pombo, Emeritus Professor of the Autonomous University of Madrid and representative of the Spanish Diabetes Society, explained to Spanish media reporters:""there is a two-way relationship between diabetes and periodontal illness: diabetes is more common in people with periodontal illness and, at the same time, periodontal illnesses are more common and more advanced in people with diabetes compared with healthy people."
Due to research into links between periodontal conditions and adverse pregnancy outcomes, the body of Spanish medical experts backing this awareness push also included Dr José María Lailla, president of the Spanish Society of Gynaecology and Obstetrics (SEGO) and professor of obstetrics and gynaecology at the University of Barcelona, who pointed out that "periodontal illnesses are taking on an important role in pregnancy check-ups, mainly in demonstrating their implication in premature births."
According to Dr Lailla, even "other pathologies, such as pre-eclampsia and restricted foetal growth, can also be related to oral pathology, although these are still in the study stage."
The main objective of this Spanish pilot for a European Periodontology Day was achieved, in other words the public was informed via national and local media about the importance of oral health. This particular communication model is a tried-and-trusted tool which the media accommodates comfortably. Successful at national level, it can now be worked up into an international event across Europe in time for 2015, a huge year for the EFP, which holds the EuroPerio8 congress in London from June 3 to 6.