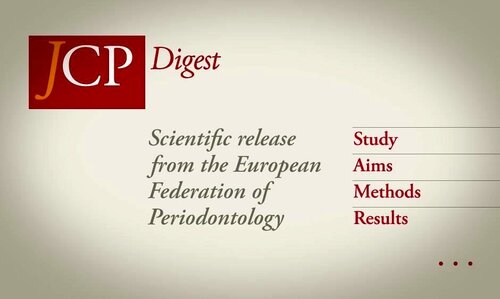 The EFP's flagship publication, the Journal of Clinical Periodontology (JCP), has launched a new open-access digest to help get across key Perio research.
This is especially good news for practitioners who need tough-to-digest research pieces boiled down to essential information so they can be up-to-the-minute on investigative work with high clinical significance. For each monthly issue of the JCP, one study will be summarised by a team of rapporteurs from post-graduate periodontology courses and supervised by a leading periodontal academic.
The first JCP Digest covers a study by Jung-Hoon Kim et al, published in the Journal in January 2014 and aimed at analysing the prevalence of extraction sockets showing erratic healing. The research, carried out in South Korea, reveals, among other conclusions, that "erratic extraction socket healing may arise in one in every 20 cases." A pubcast on the study is also available here: www.scivee.tv/node/61455
This JCP Digest will be a regular item on the EFP web site. No need to sign up for it - access is open to all. Just click here.