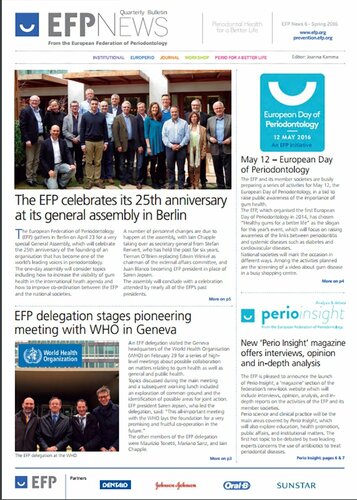 The latest edition of the EFP's quarterly bulletin EFP News has been published and is now available for downloading from the EFP website.
The sixth issue of EFP News features articles about the EFP's 25th anniversary, which was celebrated at the April 23 general assembly in Berlin, and about the related press conference in Frankfurt, in which the federation launched a call for Europe-wide action to improve oral health, general health, and public health.
The eight-page bulletin, edited by Joanna Kamma on behalf of the EFP's external affairs committee, also includes reports on the pioneering visit by an EFP delegation to the World Health Organization in Geneva and on the very positive response to the Perio Focus green paper.
Two pages of the bulletin are dedicated to Perio Insight, the new magazine section of the EFP website which offers in-depth analysis, interviews and debate.
These pages feature an interview with Edwin Winkel, who is standing down as chairman of the external affairs committee after six years, and an article which commemorates the EFP's 25th anniversary by examining how periodontology in Europe has changed since 1991.
The current and all previous editions of EFP News can be downloaded from the publications section of the EFP website. The bulletin is also available in a hard-copy format.