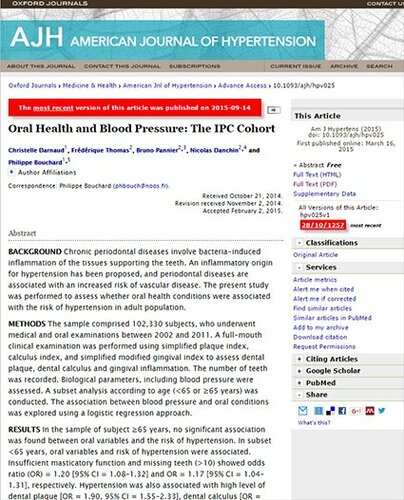 The EFP has awarded its annual Postgraduate Research Prizes to three papers written by postgraduate students in EFP-accredited programmes in periodontology.
The first prize went to the paper Oral Health and blood pressure: the IPC Cohort, which was written by Christelle Darnaud, Frédérique Thomas, Bruno Pannier, Nicolas Danchin, and Philippe Bouchard of the Department of Periodontology, Service of Odontology, Rothschild Hospital, University Paris 7 –Denis Diderot, France.
The paper, which explores the question of whether oral-health conditions are associated with the risk of hypertension in adults, was published in the American Journal of Hypertension in October 2015.
The study found that there was no significant association between oral variables and hypertension in subjects aged 65 and over, but in those under 65 insufficient masticatory function, poor oral hygiene, and oral inflammation were associated with hypertension.
The second prize was awarded to researchers from the same university – Audrey Schmitt, Maria Clotilde Carra, Pierre Boutouyrie, Philippe Bouchard – for the paper Periodontitis and arterial stiffness: a systematic review and meta-analysis which was published in the EFP's Journal of Clinical Periodontology in November 2015.
The third prize went to the paper Variables affecting tooth survival and changes in probing depth: a long-term follow-up of periodontitis patients, which was written by Michael Saminsky, Michal Halperin-Sternfeld, Eli E. Machtei and Jacob Horwitz of the Department of Periodontology, School of Graduate Dentistry, at the Rambam Health Care Campus, in Haifa, Israel. This paper was published in the Journal of Clinical Periodontology in June 2015.
A total of nine manuscripts were submitted for the prize. The winners of the first prize will receive a monetary award of €1,000, while the second prize is worth €750 and the third prize €500.
The EFP created this prize with the aim of promoting postgraduate research in its accredited programmes. It is open to all postgraduate students of these programmes, which are offered by 12 universities.
To be eligible for the prize, research work must have been published in print between January and December of the preceding year in the Journal of Clinical Periodontology or another English-language international peer-reviewed scientific journal.