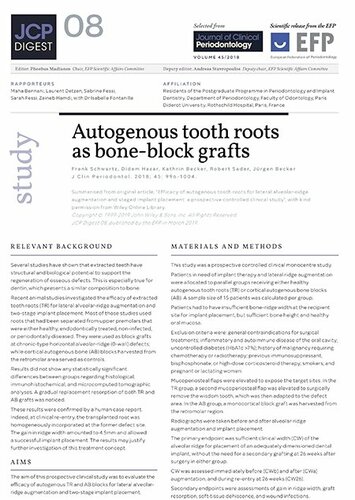 Extracted tooth roots may be considered as a therapeutic alternative to autogenous bone blocks for lateral alveolar-ridge augmentation and two-stage implant placement, according to a study now summarised for the EFP's JCP Digest.
The prospective controlled clinical study, carried out by a team of German researchers led by Frank Schwarz, found that tooth roots were as efficient as cortical autogenous bone blocks for bone augmentation of horizontal defects, thereby allowing two-stage implant placement.
Summarised as JCP Digest 08 (45:2018), the study found that tooth-root grafts showed less crestal resorption and more ridge-width gain compared to autogenous bone block grafts after 26 weeks.
Researchers called for long-term longitudinal studies to assess tooth-root graft remodelling and implant survival.
The study, published in full in the August 2018 edition of the Journal of Clinical Periodontology, was summarised for JCP Digest by students of the postgraduate programme in periodontology at Paris Diderot University in France.