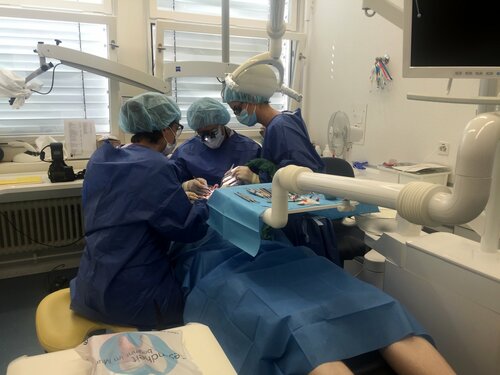 The periodontology departments of the University of Bern in Switzerland and the Hadassah and Hebrew University Medical Center in Jerusalem, Israel, have unveiled a postgraduate exchange programme between the two universities.
Each academic year a student from one department will visit the other for two weeks and will be involved in all relevant student activities.
The first exchange has already taken place, with Rachel Horowitz-Berkun from the Hebrew University visiting Bern in August.
"During this visit I was honoured to be the guest of some of the important figures in European periodontology – Prof Sculean, Prof Salvi, and Dr Ramseier," said Dr Horowitz-Berkun. "I participated in a 'journal club' held in Sculean's private home, and even assisted in several surgeries he performed. It was very interesting to see the similarities and differences in the residency programmes and in their daily practice."
She added that she was exposed to "different methods of cause-related therapy – such as photodynamic therapy, and a more frequent use of lasers for soft-tissue procedures – and different approaches to simple periodontal surgery. One thing seems clear to me now: there are many ways to get to the same target."
Horowitz-Berkun thanked the organisers of the exchange and said that she would "strongly recommend participating in this programme to my colleagues."
The exchange programme was set up by the universities' respective heads of periodontology, Anton Sculean (Bern) and Lior Shapira (Hebrew University), with support from Paro, the Swiss provider of dental and oral healthcare products.