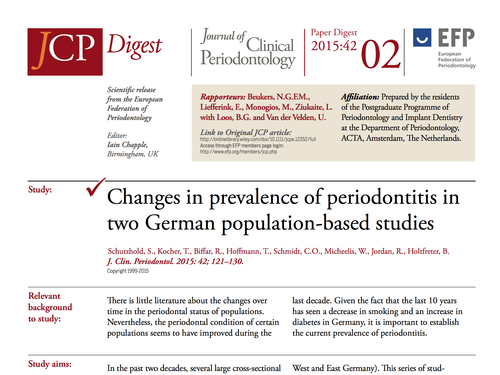 The latest issue of the EFP's monthly research summary, JCP Digest – now available for viewing and download in PDF format from the EFP website – offers an account of research into changes in the prevalence of periodontitis shown by two German population-based studies.
JCP Digest 02 (2015:42) offers a summary of research, published in full in the February 2015 edition of the Journal of Clinical Periodontology (JCP), which concluded that differences between studies, regions, historical perspectives, and time periods made it difficult to reach conclusions. However, one of the two studies suggested a modest fall in the overall prevalence of periodontitis, while the other showed a decrease in prevalence only for people aged between 35 and 44 living in the former West Germany.
The study focused on two large cross-sectional epidemiological studies to evaluate possible changes over time in the prevalence and extent of periodontitis. The researchers concluded: "The prevalence of periodontitis is still high, which may warrant preventive measures and suggests an extensive need for treatment."
The original paper was written by Svenja Schützhold, Thomas Kocher, Reiner Biffar, Thomas Hoffmann, Carsten Schmidt, Wolfgang Micheelis, Rainer Jordan, and Birte Holtfreter.
It was précised for the JCP Digest by students at the Postgraduate Programme of Periodontology and Implant Dentistry at the Department of Periodontology at ACTA in Amsterdam, working under the direction of professors Bruno Loos and Ubele van der Velden.
The EFP publishes a monthly digest of a highly relevant research paper from the JCP. All the published editions of JCP Digest – available in English, French, German, Italian, Portuguese, and Spanish – can be accessed here.
Iain Chapple, editor of JCP Digest, commented: "This is important data, which indicates we may be making progress in Germany, but we must remember that we treat pocket depths and not attachment levels, and pocket depths >4mm and the extent thereof were unchanged in SHIP [one of the German studies]. A key point made by the authors is that more teeth are being retained in all age groups, thus creating a significant treatment challenge for the future."
He added that a similar picture had been revealed by the UK's 2009 national survey (see figure) which showed that the prevalence of moderate periodontitis decreased over the preceding decade from 49% to 37%. However, the prevalence of severe disease increased from 5% to 8% and more teeth were being retained, as was also shown in the German studies.
"There are many ways of interpreting that UK data, but one plausible explanation is that teeth with more severe disease are being retained, or perhaps general dentists can manage mild-moderate disease but cannot manage severe disease as well", said Prof Chapple.