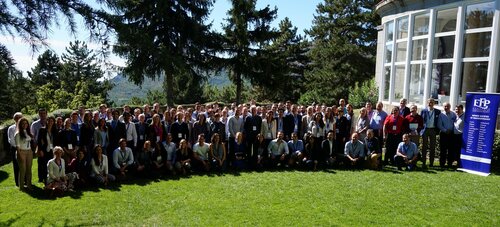 The EFP's 6th Postgraduate Symposium, which took place on September 17-19 in San Lorenzo de El Escorial, Spain, was hailed as a great success by the chairman of the EFP's post-graduate education committee.
"It was impressive to see the high level of clinical performance and the scientific achievements of all the students," declared Prof Moshe Goldstein. "The quality of both the clinical treatment and research activity has reached a new high level."
The post-graduate symposium takes place every two years and is organised by one of the 12 universities and hospitals from EFP member societies that have EFP-accredited postgraduate programmes in periodontology.
This year's symposium, which took place at the EuroForum centre in San Lorenzo de El Escorial, was organised by the Complutense University of Madrid. Goldstein paid tribute to the work of the university's Prof Mariano Sanz and Prof David Herrera, and to that of EFP coordinator Mónica Guinea, in putting together the event, which was attended by 100 participants, including 70 students.
"We could all see how the sharing of knowledge and clinical expertise during the previous symposia had a catalytic effect toward the improvement of each program," continued Moshe Goldstein. "A very impressive aspect was the intensive involvement of the students in the discussions and debates, posing critical questions, offering alternative treatment options, evaluating the outcomes of the presentations, etc. Everything took place in a friendly, relaxed, and supportive atmosphere."
He added that another important aspect of this biannual symposium was the personal encounter between students from different countries: "The social interaction was immediate and the overall feeling of friendship was almost tangible. We hope that this may serve as the basis for possible future scientific, academic and clinical cooperation after graduation."
The EFP Postgraduate Symposium, sponsored by Procter & Gamble, featured 12 sessions during which students from each of the EFP's affiliated postgraduate programmes presented clinical cases and research projects:
Rambam Medical Centre, Haifa, Israel: Case presentation by Michal Halperin-Sterenfeld; research presentation by Lana Eskander on 'Development of a rat model for the study of bisphosphonates related osteonecrosis of the jaws.'
ACTA, Amsterdam, Netherlands: Case presentation by Chryssa Delatolla; research presentation by Conroy Faber on 'A possible relationship between periodontal disease and oral cancer.'
University of Strasbourg, France: Case presentation by Aymeric Courval; research presentation by Narendra Seelam on 'Influence of periodontal diseases on systolic and diastolic blood pressure in hypertensive patient: a meta-analysis.'
Complutense University of Madrid, Spain: Case presentation by Jaime Alcaraz; research presentation by Javier Sanz on 'Experimental peri-implantitis on platform-switching connection implants: clinical results.'
The Hadassah-Hebrew University Medical Centre, Jerusalem, Israel: Case presentation by Arnon Grossman; research presentation by Ran Asher on 'Internists, gynaecologists, cardiologists and family physicians: knowledge, opinions, and behaviours regarding periodontal disease and its systemic implications.'
Sahlgrenska Academy, Gothenburg, Sweden: Case presentation by Danai Gkatziou; research presentation by Aaron Lopez-Lago Garcia on 'periodontal diseases and epigenetics: a new tool to explain pathogenesis and susceptibility?'
Trinity College, Dublin, Ireland: Case presentation by Georgios Gkikas; research presentation by John Crotty on 'A clinical and biochemical investigation into the effect of non-surgical periodontal treatment on chronic and generalized aggressive periodontitis.'
Paris Diderot University – Paris 7, Paris, France: Case presentation by Benjamin Coyac; research presentation by Frédéric Chamieh on 'Dental pulp stem cells for bone regeneration.'
University of Bern, Switzerland: Case presentation by Alexandra Stähli; research presentation by Alexandra Stähli on 'Emdogain-regulated gene expression in palatal fibroblasts requires TGF-βRI kinase signaling.'
Catholic University, Leuven, Belgium: Case presentation by Sophie De Geest; research presentation by Elisabeth Behaeghe on 'Healing of gingival abrasion.'
Yeditepe University, Istanbul, Turkey: Case presentation by Doruk Düzenli; research presentation by Sadberg Cihangir Hamud on 'Clinical and microbiological evaluation of probiotic lozenges or sub-antimicrobial dose doxycycline as adjuncts to non-surgical periodontal therapy in chronic periodontitis.'
UCL Eastman Dental Institute, London, UK: Case presentation by Federico Moreno; research presentation by Dimitra Tsarouchi and Efstathios Kousounis on 'Microbiological and exploratory microscopic assessment of a multi-species peri-implantitis biofilm following disinfection protocols: an in vitro study.'
The clinical cases presented at the symposium all involved complex periodontal therapy and used the most up-to-date aspects of anti-infective concepts, regenerative and reconstructive periodontal surgery, and different procedures for implant placement.
Click here for a selection of photographs from the symposium.
The next postgraduate symposium will take place on September 7-9, 2017. The location has still to be finalised but is likely to be Dublin.