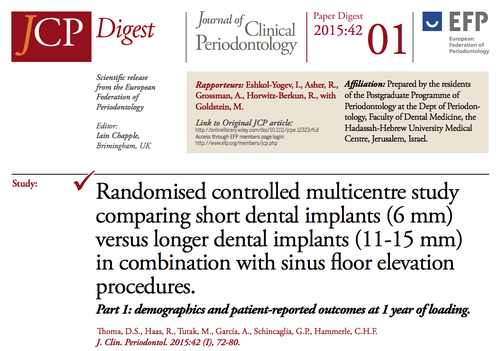 The latest issue of the EFP's research summary, JCP Digest 01, is now available for reading and download in PDF format, offering a concise account of research into the use of short (6mm) dental implants in patients with atrophied posterior maxilla.
JCP Digest 01 (2015:42) begins a new cycle of digested accounts of research published in the EFP's flagship scientific publication the Journal of Clinical Periodontology (JCP). It is the first of 12 issues which summarise research published in the JCP during 2015 and follows the first cycle of a dozen issues devoted to research published in 2014.
The treatment of the posterior maxilla with a limited ridge height remains a challenge for clinicians. The most common technique in use today is the sinus-floor elevation procedure, which increases the ridge's vertical dimension to enable the placement of dental implants.
There are high complication rates and morbidity associated with this procedure, so the use of shorter dental implants has been proposed.
The aim of the study, conducted by researchers in Switzerland, Poland, Austria, Spain, and the US, was to test whether or not the use of short dental implants (6 mm) results in similar implant survival rates to long implants (11-15 mm) in combination with sinus grafting.
The study, which was published in full in the January edition of the JCP, concluded that shorter dental implants were suitable for implant therapy in the atrophied posterior maxilla and had three advantages: reduced patient morbidity, shorter treatment times, and lower costs for patients.
The original paper was written by Daniel Thoma, Robert Haas, Marcin Tutak, Abel Garcá, Gian Pietro Schincaglia, and Christoph Hammerle.
It was précised for the JCP Digest by students at the Postgraduate Programme of Periodontology at the Department of Periodontology, Faculty of Dental Medicine, the Hadassah-Hebrew University Medical Centre, Jerusalem, working under the director of their director Prof Moshe Goldstein.
Every month, the EFP publishes a digest of a highly relevant research paper from the JCP. Access all the published editions of JCP Digest here.