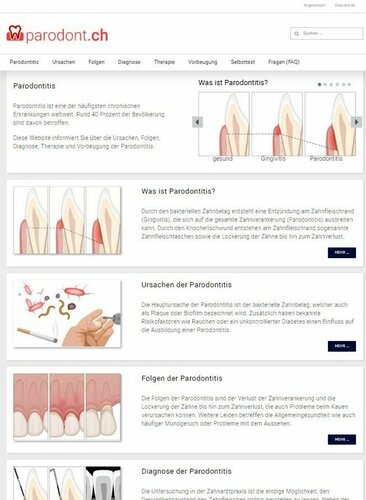 The Swiss Society of Periodontology (SSP) marked Gum Health Day on May 12 with the official launch of a new website.
The website (www.parodont.ch) has been designed to provide information about periodontal health to the Swiss public. It seeks to inform its audience about periodontal disease including aetiology, treatment, and prevention and has been written in accessible language.
The main sections of the website cover basic information about periodontal disease. There is also a self-assessment test and a series of answers to frequently asked questions (FAQ).
Each of the website's pages includes a download section at the bottom, where all the content – text (PDFs) and images (PowerPoint slides) – is made available for further use under a Creative Commons licence.
"We hope this website will help Swiss people to understand the nature of periodontal disease, its treatment, and its prevention," said Christoph Ramseier, lecturer in periodontology and implant dentistry at the University of Bern, who has led the project.
In designing the site, Dr Ramseier has focused on making it clear and easy to navigate. It is also a "responsive" site, so will display material appropriately on different devices (personal computer, mobile telephone, or tablet).
The text was written by Ramseier and one of his students, Zoe Wojahn, and the website also includes attractive drawings to explain periodontal issues, which have been created by Bernadette Rawyler, a professional scientific draftsperson from the university.
By adapting a standard WordPress theme, the cost of creating the website was minimal.
With this website launch, the adult population was addressed. There are plans for further launches to address adolescents, using videos, more images, less text, and a language better suited to younger people. Further launches will attempt to reach the elderly as well as parents with their children.
"The main reason for me to initiate this independent project was to provide more information on periodontitis while being able to address a variety of target groups," Ramseier said.
At launch, the site is in German only, but other languages – French, English, Italian – are due to be added later.
"The SSP is very proud to be able to count on Christoph Ramseier and we are grateful to him for his generous contribution," said Patrick Gugerli, SSP president. "The website www.parodont.ch will be the perfect link between the SSP and the Swiss population."
The new website complements the main SSP website – www.parodontologie.ch – which is focused on material for periodontists and other dental professionals.