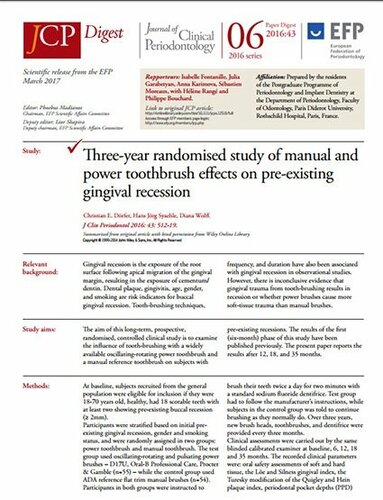 The use of power toothbrushes has been claimed to cause more soft-tissue trauma in people with gingival recession than manual brushes. But a three-year randomised study, summarised in the latest edition of JCP Digest, concludes that clinicians can safely prescribe either kind of toothbrush even for patients with pre-existing gingival recessions.
The study, featured in JCP Digest 06 (2016:43), notes that tooth-brushing techniques, frequency, duration have been associated with gingival recession in observational studies and that there is "inconclusive evidence" that gingival trauma from tooth-brushing results in recession or whether power brushes cause more soft-tissue trauma than manual brushes.
This research, Three-year randomised study of manual and power toothbrush effects on pre-existing gingival recession, was carried out by German researchers Christian E. Dörfer (University of Kiel) with Hans Jörg Syaehle and Diana Wolff (University of Heidelberg).
It is a long-term, prospective, randomised, controlled clinical study whose aim is to examine the influence of tooth-brushing on subjects with pre-existing recessions. The paper featured in JCP Digest 06 reports the results after 12, 18, and 35 months (the six-month results having been published previously).
Participants in both the test (power brushes) and control (manual brushes) groups were instructed to brush their teeth twice a day for two minutes with a standard sodium-fluoride dentifrice.
The study reported a significant reduction (nearly 0.5 mm) in gingival recession in both groups after 35 months and that the use of a power brush reduced the risk of change in gingival recession compared to the use of a manual brush. The daily regimen of two minutes' brushing (with either kind of brush) "appears to have no adverse effect on pre-existing gingival recession."
The study's authors highlight various limitations of the research, including the "Hawthorne effect" (where participation in an investigation leads to behavioural changes) and the fact that it was sponsored by Procter & Gamble, owner of the Oral-B brand, which provided the power brushes used.
The research, published last year in the Journal of Clinical Periodontology, was précised for the JCP Digest, the EFP's research summary, by residents of the postgraduate programme of periodontology and implant dentistry at Paris Diderot University – Paris 7, Rothschild Hospital.
JCP Digest 06 is available for viewing and downloading on the EFP website in English, French, German, Italian, Portuguese, and Spanish.