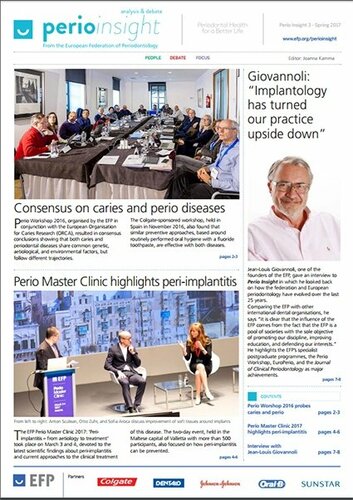 The latest issue of the EFP magazine Perio Insight has been published and is available to download in pdf format from the EFP website.
The eight-page Perio Insight 3 includes in-depth reports on two key EFP events and an interview with one of the federation's founders.
The main item is a detailed account of Perio Workshop 2016, which took place in November last year, at which 75 invited experts from the EFP and the European Organisation for Caries Research (ORCA) came together to discuss the boundaries between caries and periodontal disease.
The report explains the consensus conclusions reached by the Colgate-sponsored workshop's four working groups which examined the role of microbial biofilms; the interaction of lifestyle, behaviour and systemic diseases; prevention and control; and age-related effects – all in relation to both dental caries and periodontal diseases.
There is also an extensive report on Perio Master Clinic 2017, which took place in Malta on March 3 and 4 in Malta, devoted to "peri-implantitis – from aetiology to treatment."
The Perio Insight account of the event, organised by the Turkish Society of Periodontology and attended by more than 500 clinicians, goes into detail about each of the six sessions in which leading experts offered the latest scientific thinking about peri-implantitis and discussed the best ways to prevent and treat this disease.
Finally, this issue of Perio Insight features an interview with Jean-Louis Giovannoli, one of the founders of the EFP, who stood down from the executive committee last year.
Reflecting on the EFP's 25th anniversary in 2016, he talks about how the federation has evolved, its achievements such as the EuroPerio congresses and the Journal of Clinical Periodontology, and about the changes that have taken place in European periodontology, noting that "implantology has turned our practice upside down."
Perio Insight is published three times a year and includes interviews, debate, and analysis of key topics in periodontology and of the activities of the EFP and its member societies.
Future articles in Perio Insight will cover subjects including the role of genetic factors in periodontitis and the latest tendencies in soft- and hard-tissue regeneration.