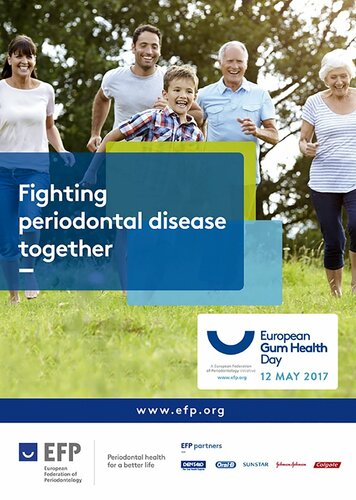 The EFP has produced a wide range of materials for its affiliated national perio societies to use for the events that they are organising for European Gum Health Day 2017 on May 12.
A new section of the EFP website, dedicated to the awareness day, has been launched which provides information, logos, posters, and graphics for social media that can be used by national societies in their promotions.
The section also includes short video messages about the event from EFP president Juan Blanco and Filippo Graziani, the EFP's co-ordinator of European Gum Health Day 2017.
The EFP has also provided its 29 member societies with guidelines on how to take part in European Gum Health Day, how to organise press conferences, templates for press releases and press invitations, and other materials that can be edited, translated, and adapted to local needs.
All graphics and visual identity materials have been sent in both "closed" and editable format, so that individual societies can transform them if they wish to.
By making much of this material available on its website, the EFP hopes to encourage dental practices, universities, research centres, organisations, and individuals to get involved with European Gum Health Day 2017 by using these resources.
The slogan for this year's event is "Fighting periodontal disease together" and the hashtag "#perioday" will be used on social media.
European Gum Health Day 2017 is the fourth EFP-promoted annual awareness day organised by the national perio societies.
Last year's event, with the slogan "Healthy gums for a better life," was a huge success: 21 national societies organised a wide range of public-awareness activities, offered free periodontal screenings, and generated significant media coverage.
"The public at large might not realise the importance of proper oral health, so it is time for us to find the best way to speak to the people," said Prof Graziani. "We need to think of people not patients – this should be the approach of our communications."