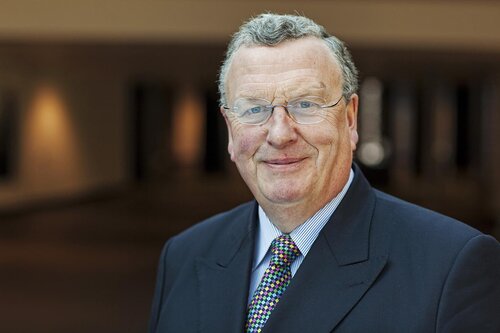 Professor Nairn Wilson and Professor Francis Hughes are on the 2023 honours list announced for King Charles's first official birthday in the UK. Prof. Wilson was appointed Knight Bachelor and Prof. Hughes received an MBE (Member of the Order of the British Empire) for services to dentistry. The UK honours system recognises people who have "made achievements in public life" and "committed themselves to serving and helping Britain." Releasing this year's list, the Cabinet Office said it had a "renewed focus on those who have had a profoundly positive impact on how society faces up to the most challenging issues of the modern era."
Prof. Wilson is Honorary Professor of Dentistry, former Dean and Head of King's College London Dental Institute and Honorary Founding President of the College of General Dentistry. He has vigorously promoted the importance of oral health to general health and wellbeing. Wilson had a substantial influence on the global shift to preventatively orientated minimum intervention and is known for his award-winning practice-based research and his commitment to the adoption of modern dental filling materials.
Wilson has been very active within the EFP. He is particularly known for his efforts as the EFP strategic executive officer, to seek EU-wide recognition of periodontology as a specialty within dentistry, a key objective of the Federation. For this work, the EFP gave him a special award in 2022.
Prof. Wilson commented: "I am deeply honoured and humbled to have been made a Knight Bachelor. This would not have happened without the tremendous help and support extended to me by family, friends, and colleagues, let alone the opportunities afforded to me by bodies such as EFP. I remain committed to promoting excellence and innovation in dentistry, including periodontology, to improve oral health and, as a consequence, general health and wellbeing. I will continue to serve dentistry to the best of my ability."
Prof. Hughes, Emeritus Professor of Periodontology at King's College London, has focused his research on the biology of periodontal regeneration, systemic and genetic risk factors for periodontal disease, and periodontal biomarkers. He has also played a lead role over many years in undergraduate and postgraduate education in periodontology.
Hughes has made significant contributions to the EFP. Among other roles, he chaired the EuroPerio8 organising committee, he was chair of the EFP congress committee (responsible for choosing venues for congresses) and has actively participated in Perio Workshops including the 2017 World Workshop on the Classification of Periodontal and Peri-Implant Diseases.
"It has been a great pleasure over my career to work with friends and colleagues throughout the EFP and indeed from all over the world," said Hughes. "To see my work recognised in this way by conferment of the MBE is a great honour which I am thrilled to accept. I hope it also brings honour and profile more widely to our discipline."
EFP President, Darko Božić said: "We heartily congratulate Nairn and Francis for making it to the King's honours list in the UK. These are well earned recognitions for a lifetime of outstanding service to the community. Nairn and Francis are an example to professionals everywhere, and we are proud to count them as members of our community."