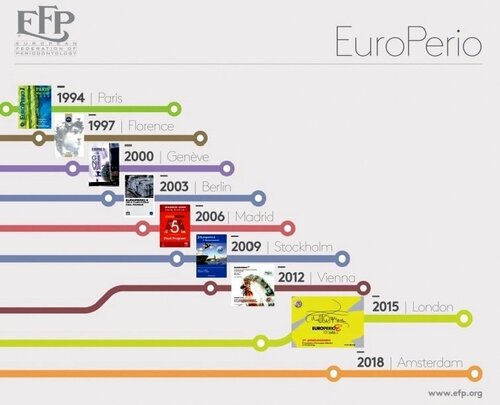 A key location within EuroPerio8 was the EFP Village, which was designed to be the meeting point for the 29 national societies which make up the EFP.
The EFP Village, located on Level 0 in the Boulevard near the cloakroom between the ICC Auditorium and the exhibition entrance, was a special space for meeting, relaxing and finding information. It featured an EFP desk where information about the activities of the federation were provided to all attendees.
At the EFP desk, it was possible to pick up a national flag to attach to your lapel or conference accreditation, as well as to look at the latest EFP News quarterly bulletin or to browse through the most up-to-date institutional brochure.
Behind the desk was placed the EFP Wall, which screened videos and presentations from all the national societies and, on the other side, offered images of all the previous EuroPerios and an invitation to EuroPerio9 in Amsterdam in 2018.
As well the 29 national societies, the village was also home to representatives of the British Society of Dental Hygiene & Therapy (BSDHT).