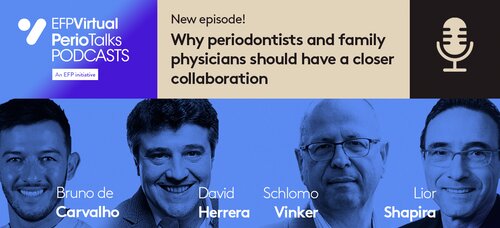 Listen to the latest episode of EFP Perio Talks podcast to find out why oral health professionals and family physicians should work closer together.
Bruno de Carvalho, host of EFP Perio Talks, discusses a recently published paper with its authors Professors David Herrera (chair EFP workshop committee), Lior Shapira (past EFP president) and Shlomo Vinker (president of the European region of the World Organisation of Family Doctors - WONCA Europe). The Journal of Clinical Periodontology publication: "Association between periodontal diseases and cardiovascular diseases, diabetes and respiratory diseases" is the consensus report of the Joint Workshop by the EFP and WONCA Europe.
"Simple interventions by oral health professionals can greatly improve overall health and reduce systemic risks and complications. Having better oral hygiene can prevent many chronic diseases and reduce the risk of complications," says David Herrera. "Working together with family doctors will clearly benefit our patients and the public."
An example is offered by Prof. Shapira: "Screening patients for diabetes at the dental office can save lives and allows physicians and dentists to work as a team. By allowing early diagnosis of diabetes, we can reduce complications and contribute to our mission to improve health, quality of life and, ultimately, to save lives."
Prof. Vinker adds: "Family doctors and dentists should work together to prevent, detect, and treat major systemic and periodontal diseases. Together we can help combat many conditions: cardiovascular disease (CVD), hypertension, obesity, diabetes, smoking and hyperlipidemia. Everyone benefits from better oral health and better oral hygiene. One of the key messages I got from our workshop was that if we detect and diagnose periodontal diseases early, we can avoid complex treatments, such as surgical procedures."
The podcast delves into the association of periodontitis and cardiovascular disease, diabetes, and respiratory diseases (including asthma, obstructive apnea, COVID-19, and chronic obstructive pulmonary disease -COPD). Guidance about treatment and screening and treatment is also discussed.
Authors hope that key messages from the consensus report: Association between periodontal diseases and cardiovascular diseases, diabetes, and respiratory diseases, will reach a wide audience.
Help us to spread the main findings of the workshop!