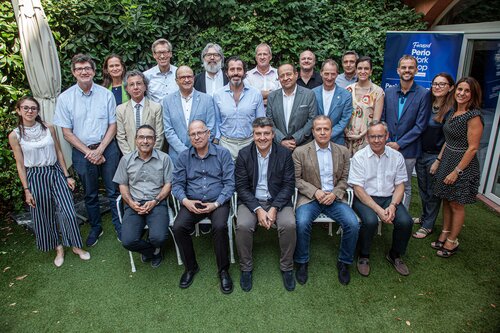 The EFP's focused workshop on periodontology and family doctors, held in Madrid on July 10 and 11, examined the role of general practitioners/family physicians and the oral-health team in the management of patients. It reviewed the well-established associations between periodontitis and diabetes, cardiovascular diseases, and respiratory diseases.
Nine experts from the EFP and nine from the European branch of the World Organization of Family Doctors (WONCA Europe) evaluated the current knowledge, reaching consensus agreements and creating a series of recommendations for family doctors and dentists.
There was ground-breaking work done by the working group that reviewed the links between periodontitis and respiratory diseases. A new systematic review – especially prepared for the event – was presented and discussed to provide the scientific basis for a consensus and recommendations related to chronic obstructive pulmonary disease (COPD), asthma, community-acquired pneumonia (CAP), obstructive sleep apnoea (OSA), and COVID-19.
The other two working groups considered new evidence on the associations between periodontitis and cardiovascular diseases and diabetes, updating the consensus agreed at the Perio & Cardio Workshop in 2019 and the Perio-Diabetes Workshop in 2017, which led to effective EFP campaigns aimed at health professionals, policymakers, and the public.
This latest focused workshop, sponsored by EFP partner Curasept, was co-chaired by David Herrera, chair of the EFP workshop committee, and Shlomo Vinker, president of WONCA Europe, and these two scientists also chaired the working group on the association between periodontitis and respiratory diseases.
"I have learnt a lot of things from the family doctors during this workshop, and we should also be aware of the impact that this will have on our patients," said David Herrera. "We should start to feel proud about what we have done over these days because it will have an impact, as happened before with the previous focused workshops."
The next stage will be the preparation of the final consensus report, which will be published simultaneously in the EFP's Journal of Clinical Periodontology and WONCA Europe's European Journal of General Practice. In parallel, the EFP will develop an outreach campaign based on the recommendations, targeting specific groups such as patients in primary-care settings, patients in dental clinics, policymakers, family doctors, dentists, periodontists, and dental hygienists).
"Running our working group was very challenging as we had to handle this complicated mission of interpreting the data provided by the new systematic review and come to a consensus, while the other groups were updating information on previous consensus from focused workshops," said Shlomo Vinker. "I learnt a lot. I do not think that WONCA Europe had previously done such a joint work with another scientific organization, and it was a very good experience for us."
Andreas Stavropoulos, EFP president, added: "This is an important workshop that can have an even stronger impact for the patient compared to other workshops that we have had," said EFP president Andreas Stavropoulos.