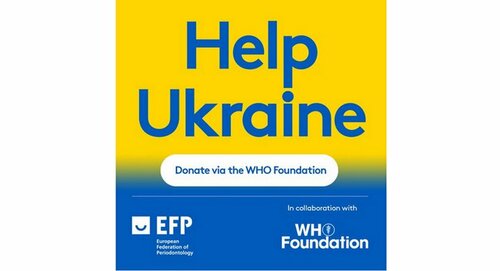 The EFP is urging periodontists and the wider dental community to join its donation campaign to deliver urgent health care to people in Ukraine and to Ukrainian refugees.
The Help Ukraine! donation campaign was launched by the federation at its general assembly in Vienna in March and has received support from people in many countries.
The EFP campaign has been organised in collaboration with the WHO Foundation, an independent Swiss foundation affiliated to the World Health Organization.
The WHO Foundation works to bring resources from the private sector to support the WHO's mission to promote health, keep the world safe, and serve the vulnerable by bringing together donors, health professionals, and the WHO network.
The suffering caused by the war is unabating and the need for medical and humanitarian support continues.
"Unfortunately, the situation in Ukraine has not been resolved; rather it has become worse, although it may not hit the news as the first thing in most of our countries," said EFP president Andreas Stavropoulos. "Thus, the humanitarian crisis is ongoing. We urge our friends to donate and support the EFP in this effort."