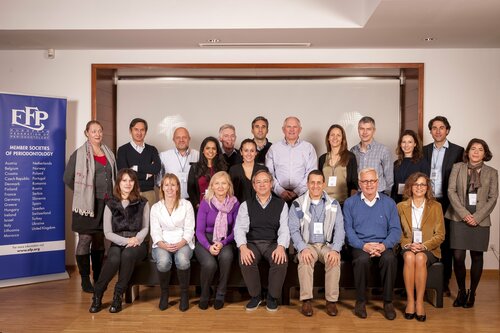 The scheduling of supportive periodontal therapy (SPT) in line with the risk profiles of individual patients with periodontitis is one of the main recommendations to emerge from Working Group 4 of the XI European Workshop in Periodontology (EWP).
Professional mechanical plaque removal and the treatment of halitosis and dentine hypersensitivity were also among the issues examined by the leading periodontal experts who made up this group.
Chaired by Prof. Mariano Sanz, Working Group 4 focused on the effect of professional mechanical plaque removal on secondary prevention of periodontitis and the complications of gingival and periodontal preventive measures.
Among its conclusions, the group recommended that active periodontal therapy on patients should be followed up by two to four sessions per year of specific supportive periodontal therapy (SPT) with the frequency of sessions adjusted according to patient risk profiles.
"We cannot provide the same protocol for every patient," said Prof. Sanz. "We need to customise the prevention measures for each specific patient, and we need to understand what the patient risk profile is in order to provide instructions."
His group identified the need to define specific protocols and optimum patient-recall intervals, to line up treatment intervals according to specific risks, and to assess the impact of treatment on the long-term stability of periodontal health.
"Secondary prevention is about maintaining health for life once patients have been treated for periodontitis," Sanz stressed.
The group also reviewed studies on the role of traumatic brushing, as well as approaches to halitosis and the effect of chemical agents on dentine hypersensitity.
"These are important issues that can occur during the life of a patient," said Sanz. "It is not very clear in available literature what the role of tooth-brushing is, and the systematic review did not provide very clear answers, but there are indications that both mechanical toothbrushes and power toothbrushes can be safe for the patient throughout life.
"We need to provide specific instructions for patients who are at specific risk of developing these lesions."
On the question of oral malodour, Sanz asserted: "It is clear from the literature that most halitosis has intraoral origins, so it is we dentists who should provide specific measures."
With regard to dentine hypersensitivity, he said: "We discussed which chemical agents had demonstrated efficacy, both those agents which patients use at home and those we, as dentists, may deliver where dentinal hypersensitivity is related to tooth lesions or very acute episodes."
The full conclusions from the XI European Workshop in Periodontology on effective prevention of periodontal and peri-implant diseases are published this month, April, in a special supplement of the EFP's flagship science publication, the Journal of Clinical Periodontology.
Prof. Sanz, who as well as chairing Working Group 4 was also the overall chairman of the EWP, said he was satisfied that the Workshop had met the expectations of the more than 70 researchers who participated.
"The main message that we provide to the public and to dentists is that periodontitis is a chronic disease that is triggered by bacteria but is really modulated by the host and, therefore, we need to understand what the risk of the specific host is in order to be efficient in prevention," he said.
"Both caries and periodontitis are the most important diseases of mankind in terms of frequency and prevalence," he continued. "It is important that we understand that these diseases can be prevented very easily but if they develop and become severe it really poses a risk for the health of the patient."
Working Group 4 comprised Mariano Sanz, Amelie Bäumer, Nurcan Budunelli, Henrik Dommisch, Roberto Farina, Eija Kononen, Gerard Linden, Joerg Meyle, Philip Preshaw, Marc Quirynen, Silvia Roldan, Nerea Sanchez, Anton Sculean, Dagmar Else Slot, Leo Trombelli, Nicola West, and Edwin Winkel.
The event's sponsors were represented by Maria Mantzourani (Johnson & Johnson) and Anja Carina Rist (Procter & Gamble).
The Workshop's other working groups covered 'Primary prevention of periodontitis – managing gingivitis' (Working Group 2, chaired by Iain Chapple), 'Primary prevention of peri-implantitis – managing peri-implant mucositis' (Working Group 3, chaired by Sören Jepsen), and 'Principles of prevention in periodontal diseases' (Working Group 1, chaired by Maurizio Tonetti).
This eleventh EFP Workshop, sponsored by Johnson & Johnson and Procter & Gamble, was held last November in the Spanish mountain town of La Granja de San Ildefonso, near Segovia.