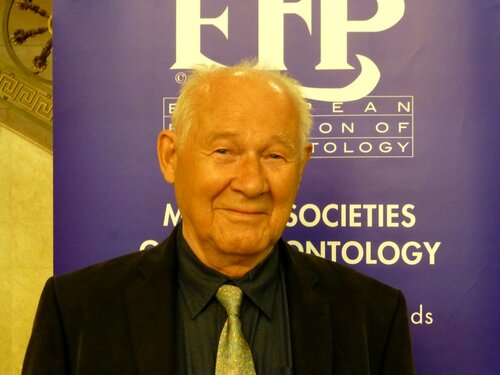 The EFP was saddened to learn that Thorkild Karring, one of the great perio pioneers, passed away on August 22 at the age of 78.
Prof Karring made an outstanding contribution to the development of periodontology, particularly through his work on tissue regeneration.
He collaborated extensively with Sture Nyman and Jan Lindhe at the University of Gothenburg in researching periodontal wound healing and regeneration. Based on this work, the guided tissue regeneration (GTR) technique to treat periodontal defects – still used in clinics around the world – was developed.
He also contributed to the understanding of periodontal cell population kinetics and free gingival- and connective-tissue graft healing and carried out many pre-clinical in vivo experimental studies. He published numerous papers in international scientific journals and textbooks and also edited the Textbook of Clinical Periodontology with Jan Lindhe and Niklaus Lang.
After graduating from the School of Dentistry in Aarhus, Denmark, in 1968, Thorkild Karring went on to become associate professor at the Department of Periodontology in Aarhus (1972-83), assistant professor at the Department of Periodontology, University of Michigan, USA (1973-74), and docent at Department of Periodontology in Gothenburg in 1976.
In 1983, he returned to Denmark to become professor and head of the Department of Periodontology in Aarhus, a post he held until he retired in 2007. He also served as vice-dean at the School of Dentistry in Aarhus from 1987 to 1991 and as dean from 1991 to 1999. He was president of the Scandinavian Society of Periodontology from 1988 to 1990.
Together with Niklaus Lang and Jan Lindhe, Prof Karring was a founder of the EFP's European Workshop in Periodontolgy in 1993. He was involved in the organisation of the first six editions of the workshop, which took place in Ittingen, Switzerland in 1993, 1996, 1999, 2002, 2005, and 2008.
The European Workshop in Periodontology (now known as the EFP Perio Workshop) has become one of the landmark perio events in Europe, bringing together the world's leading experts in periodontology and implant dentistry.
In 2015, the EFP awarded Prof Karring its Distinguished Scientist Award for his lifelong contribution to the field. In June 2016, the Periodontal Research Group of the International Association for Dental Research (IADR) announced the creation of an annual competitive award, the Karring–Nyman Sunstar Guidor Award, supporting studies on oral-tissue regeneration, to honour his and Prof Nyman's contribution to this area of research.
"This is a very sad day for perio," said EFP secretary general Iain Chapple "Thorkild was not only an inspiring and pioneering scientist but he was a tremendous character who was universally loved within the field. He inspired so many of today's leading scientists in periodontal regeneration, and we will miss his science as well as a great human being".
"This is indeed very sad news, since Thorkild was one of the most innovative people in modern periodontology," added Anton Sculean, elected member of the EFP executive committee. "I feel very privileged that I had the chance to complete my postgraduate education under his guidance."
A video interview with Prof Karring was recently carried out by Tiernan O'Brien, chairman of the EFP external affairs committee as part of the "Perio Greats" series. It can be viewed here. In this three-part interview, Prof Karring talks about the steps that led to the breakthrough in regenerative studies that eventually evolved into guided tissue regeneration.