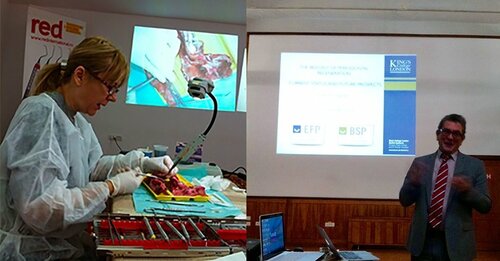 The Romanian Society of Periodontology held its eleventh national conference in Bucharest on October 7, with the focus on "periodontal medicine integrated in current daily practice."
The keynote speaker was Francis Hughes, professor of periodontology at King's College London, who gave a presentation about the current status and future prospects of the biology of periodontal regeneration.
There were also lectures and short oral presentations from other experienced periodontal teachers and by postgraduate students from Bucharest and other Romanian cities. The topics covered included the importance of early-stage periodontal therapy for oncology patients, a case report about aesthetic and functional rehabilitation in aggressive periodontitis, and risk factors and risk assessment in periodontal disease.
About 150 people participated in the event, which was attended by periodontists, postgraduate periodontal students, and other dentists.

Two days earlier, on October 5, the society held a hands-on workshop devoted to complex periodontal surgical treatment and different types of surgical techniques. It covered the topics of subgingival curettage and grafting therapy, flap operations and grafting therapy, gingivectomy, and the lengthening of clinical crowns.
The workshop involved 10 participants who performed surgical periodontal techniques and suture techniques on a porcine mandible support, using modern instruments and regenerative materials.
It was led by Prof Anca Silvia Dumitriu, head of the department of periodontology at the Carol Davila University of Medicine and Pharmacy in Bucharest (who is also president of the Romanian Society of Periodontology) and associate professor Stana Paunica, from the same university (the society's vice president and EFP delegate), with the collaboration of Dr Giurgiu Marina.