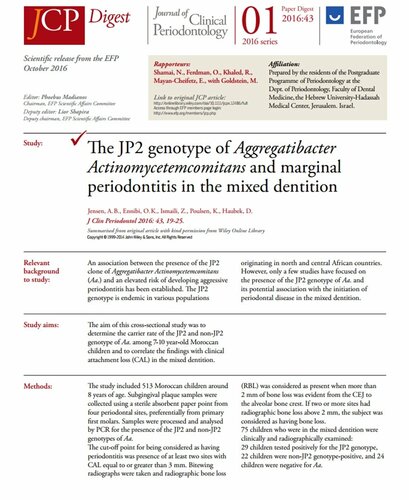 The first issue of a new series of the EFP's research summary the JCP Digest has been published, offering a concise account of a study of the presence of the JP2 clone of the bacterium Aggregatibacter Actinomycetemcomitans (Aa.) among Moroccan children.
The JP2 genotype of Aa., which is associated with a higher risk of developing aggressive periodontitis, is endemic in various populations of north and central African origin. But few studies have focused on its presence and potential association with the onset of periodontal disease during the mixed-dentition period.
Thus, researchers at Aarhus University in Denmark and the Mohammed V Souissi University in Rabat, Morocco set out to investigate the carrier rate of both the JP2 and non-JP2 genotypes of Aa. among 7- to 10-year-old Moroccan children and to correlate these findings with clinical attachment loss in the mixed dentition.
Their findings, summarised for the JCP Digest by students at the EFP-accredited postgraduate periodontology programme at the Hebrew University-Hadassah Medical Center in Jerusalem, were that a substantial proportion (9%) of the children studied were carriers of the highly leukotoxic JP2 genotype of Aa. In addition, clinical attachment loss was found only among this group.
They concluded that the JP2 genotype of Aa. may be a risk factor for periodontal disease in adolescents and that, in specific populations (those from geographical or ethnic backgrounds with a higher potential prevalence of the JP2 clone), "microbiological tests may be helpful to identify higher-risk patients in whom preventative treatment could be provided more intensely or methods developed to prevent vertical transmission."
This issue of the JCP Digest – JCP Digest 01 (2016:43) – is the first of a new series which summarises research published in 2016 (Volume 43) in the EFP's prestigious scientific publication the Journal of Clinical Periodontology. The paper summarised was published in the January edition of the JCP. It is available in English, French, German, Italian, Portuguese, and Spanish.
The JCP Digest, which was launched in 2014, offers concise periodontal research to enable clinicians to keep their knowledge up to date, summarising studies from the Journal of Clinical Periodontology (JCP), the official scientific journal of the EFP which is ranked as one of the top dental journals according to impact factor.
It is edited by Prof Phoebus Madianos and Prof Lior Shapira (chair and deputy chair of the EFP's scientific advisory committee), with the co-operation of JCP editor-in-chief Prof Maurizio Tonetti.
Each edition – published in English, in French, German, Italian, Portuguese, and Spanish – is put together by rapporteurs from EFP-accredited postgraduate periodontology courses, working under expert supervision.