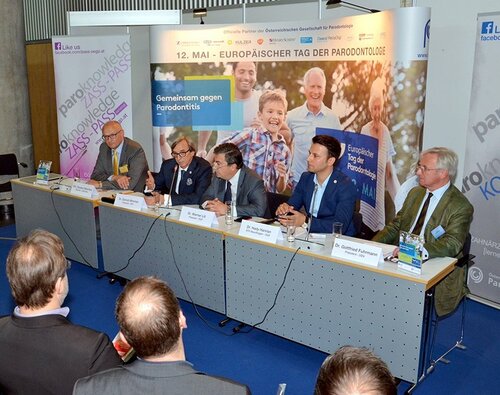 EFP president Gernot Wimmer today addressed a press conference in Vienna to present European Gum Health Day 2017.

The conference was organised by the Austrian Society of Periodontology and the Austrian Dental Chamber and took place at the Vienna International Dental Fair, the biggest forum in Austria for the presentation of dental products and the exchange of knowledge, which is expected to attract more than 4,000 visitors.
Prof Wimmer described the EFP periodontal-health awareness day as "the only international initiative aimed at raising public awareness of periodontology, a branch of dentistry that is already officially recognised as a dental speciality in many countries."
He told the press conference that European Gum Health Day seeks to encourage authorities, policymakers, health organisations, and public opinion across Europe "to come to a better understanding of how gum health can improve general health and well-being, and save a huge amount of public money in health expenditure."

The Austrian Society of Periodontology also created a folder for patients with printed material about periodontal disease and treatment, while its board members gave lectures about periodontal disease during the dental fair.