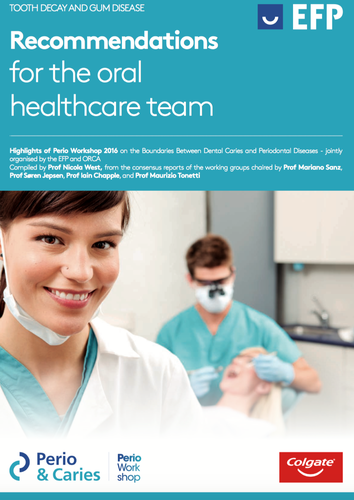 Giving support to oral healthcare professionals in their efforts to tackle gum disease and dental caries is the purpose of a dedicated recommendation brochure, published as part of the Perio & Caries initiative. This publication offers advice for periodontists, dentists, and other members of the dental team on how to prevent and deal with periodontal diseases and caries.
Authored by Nicola West, this brochure is one of the core elements of the Perio & Caries project developed by the EFP thanks to an unrestricted grant from Colgate. It contains a wealth of suggestions to make the fight against these chronic, widespread conditions at the dental practice more effective, including:
Routinely questioning patients about their family history and their dietary behaviour to identify risk factors;
Examining intra-oral saliva production/moisture levels, and considering fluoride supplements or saliva substitutes for patients with reduced salivary flow;
Using validated risk-assessment tools with patients and designing an individualised risk-based prevention programme for them;
Encouraging patients to perform personal dental plaque control themselves, and to improve their oral hygiene by means of motivational approaches;
Incorporating professional tooth-cleaning in a thorough, structured prophylaxis programme including oral-hygiene instruction and dietary advice (with sugar cessation between meals);
Adapting the dental practice to meet the mobility needs of elders and checking that they have a feasible way to buy toothpaste or a toothbrush.
Being very aware of collateral medical aspects, collaborating with other physicians, and considering the level of dependence rather than the chronological age when treating the elderly are other key messages conveyed to the dental team.
This publication is part of a brochure series compiled from the consensus reports produced by the four working groups chaired by Iain Chapple, Maurizio Tonetti, Mariano Sanz, and Søren Jepsen at Perio Workshop 2016. Other brochures contain recommendations specifically for non-dental health professionals, researchers, policymakers, and the general public.
Prof West is also the author of the scientific report "The boundaries between caries and gum disease," which builds on the outcomes of Perio Workshop 2016 (also sponsored by Colgate), which was jointly organised by the EFP and ORCA (European Organisation for Caries Research) in La Granja, Spain in November 2016.