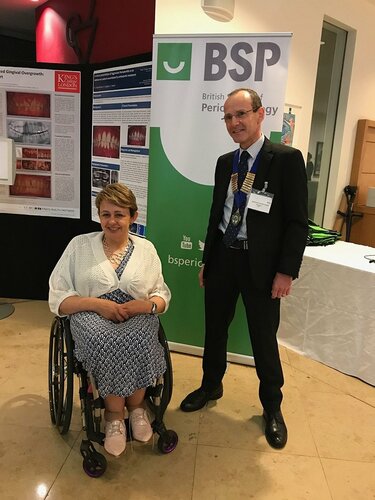 The annual conference of the British Society of Periodontology (BSP), which took place in London at the end of June, was dedicated to the theme of "performance".
Presentations covered a wide range of subjects, with sessions on optimising performance in behavioural change, optimising performance of periodontal surgery, optimising performance in long-term outcomes, and optimising performance of restorative and dental implant therapies.
Both days began with inspirational, sports-themed presentations from Baroness Tanni Grey-Thompson, the UK's most successful Paralympic athlete, and from Dr Daniel Martin, a critical care consultant at London's Royal Free Hospital and director of the University College London (UCL) centre for altitude, space, and extreme environment (CASE) medicine whose achievements including reaching the summit of Mount Everest.
These were followed by clinical lectures with lively debate, punctuated by breakout sessions on topics including leadership, mindfulness and social media.
Lectures included strategies for stopping smoking by Robert West, professor of health psychology and director of tobacco studies at the Cancer Research UK Health Behaviour Research Centre at UCL, and how to successfully implement behaviour change by Susan Michie, director of the Centre for Behaviour Change and the Health Psychology Group at UCL.
Birgitta Jonson, a dental hygienist and researcher at the Public Dental Health Service Competence Centre of Northern Norway, discussed changing practitioner behaviour in order to facilitate behaviour change in patients.
Two speakers discussed the ways in which technology is making an impact within dentistry. German Galucci, head of regenerative and implant sciences at the Harvard School of Dental Medicine, spoke about how the digital era is transforming performance in implant therapy ,while Maneesh Juneja, a digital health futurist, tackled the subject of using digital technology for periodontal health.
Otto Zuhr, lecturer in periodontology at the University of Frankfurt and author of the book Plastic Esthetic Periodontal and Implant Surgery, gave a two-part lecture about techniques for enhancing periodontal surgical outcomes, and Roger Kneebone, a clinician and educationalist who leads the Centre for Engagement and Simulation Science at Imperial College London, talked about how performing surgery offers parallels with music, magic, and theatre.
Ola Norderyd, associate professor in periodontology at Lund University (Sweden), talked about understanding the variables involved in periodontal care and preventative programmes. Eric Svensrud, a Norwegian dentist specialising in preventive and minimally invasive dentistry and interdisciplinary treatment, spoke about optimising prosthodontic aesthetics and performance.
EFP secretary general Iain Chapple, professor of periodontology and head of the School of Dentistry at the University of Birmingham, gave a presentation on how new risk-assessment technologies can make a difference to patients and periodontal practices.
Social media and mindfulness
More informal lunchtime sessions focused on how periodontists can use social media to promote themselves and their practice and on how mindfulness techniques can benefit periodontal care. These talks were given respectively by Ian Dunn, lecturer in periodontics at Liverpool University who has served as the BSP's webmaster, and Sud Ubayasir, who has worked as a doctor and as a mindfulness and meditation instructor.
"When I put together the plan for the conference I was very excited," said BSP president Ian Needleman. "In sporting terms, it was like putting together my own fantasy league. However, I was also weighed by a huge sense of responsibility – making sure the programme was cohesive and inspiring for delegates."
The London conference was attended by 250 delegates and featured 17 speakers, 13 exhibitors, and five sponsors. The conference, held at the Kings Place music and arts venue on June 22 and 23, was preceded by the society's annual meeting and prize presentations, which took place at the nearby Wellcome Collection on the afternoon of June 21.
Prizes
This year's Sir Wilfred Fish Prize was presented to Emily Lu, whose study tested the hypothesis that gingival fibroblasts promote epithelial growth while those from periodontal ligament result in an undifferentiated, immature epithelium similar to the junctional epithelial phenotype.
The social-media prize was won by Kevin Davey, and the poster competition winners were Reena Wadia and Richard Holliday.
"The conference feedback has exceeded our expectations" said Prof Needleman. "The extra touches such as the optional fun run, breakout sessions, Early Career Group workshop, and networking opportunities all added to the overall feeling that we have looked after all of our delegates, answering their conference requirements at every level. I am deeply grateful to our conference sponsors and exhibitors for the generous support, without whom this simply could not happen."
The BSP's 2018 conference will take place in Edinburgh and will be organised by the society's 2018 president, Penny Hodge.