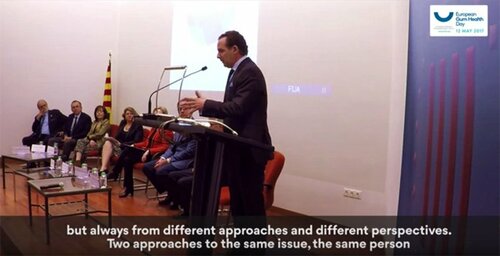 The Spanish Society of Periodontology and Osseointegration (SEPA) has released a video, with subtitles in English, explaining the activities it organised for European Gum Health Day.
The four-minute video includes footage of the May 8 presentation in Barcelona of the Alliance for Periodontal and General Heath, with comments from representatives of the Spanish societies of diabetes, cardiology, gynaecology and obstetrics, and primary-care doctors.
The Alliance for Health is a SEPA initiative to strengthen bonds between the dental community and other healthcare professionals to improve the prevention and early diagnosis of periodontal diseases, and to treat these diseases in the context of their potential consequences for general health.
The video also shows the activity which SEPA organised on May 12, when it launched a report on periodontal health and sports performance. The report was presented on May 12 at SEPA's Casa de las Encías gum-health centre in Madrid and was followed by a lively debate. It was written in a collaboration between SEPA and the Spanish Society of Sports Medicine (SEMED).
In recent years, as knowledge of the systemic effects of gum health on general health has increased, there has been a growing interest in investigating the link between sports performance and periodontal health.
In addition, the video also features the signing of an agreement with Malaga football club to help young players improve their oral health and sports performance, as well as the distribution of leaflets to the public in Malaga (during SEPA's annual congress) with advice on taking care of gums.
An earlier version of this article, written before the video was released, was published on May 22.