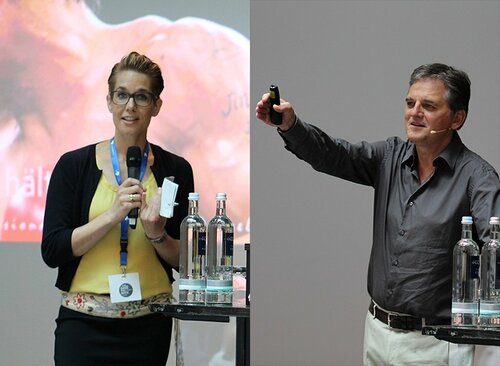 A lively meeting was held by the German Society of Periodontology (DG PARO) in Düsseldorf on July 8 at which speakers addressed a range of topics under the heading "Periodontology versus implantology: duel of disciplines."
The event was the fifth annual DG PARO Young Professionals meeting, organised by the society's junior committee.
After an opening address by society president Christof Dörfer, the day's proceedings were hosted by Stefanie Kretschmar and Dennis Schaller.
The first session covered bony defects. Tobias Thalmair (from Freising) summarised the scientific evidence and clinical concepts about periodontal regeneration and explained in detail the clinical potential and limitations of reconstructive procedures around teeth.
Michael Back (Munich) then addressed alveolar defects following tooth loss and provided various surgical examples of his guided bone regeneration (GBR) strategies, emphasising soft-tissue management as a determining factor for successful bone augmentation during implant installation.
The second session addressed the question of "Teeth or implants – which works better?" The two speakers in this session said that this question could not be adequately answered within the polarised format of a "duel of specialities".
"I love implants, but any tooth that I avoid extracting I love even more," Amelie Bäumer (Bielefeld) told the meeting. She said that in making clinical decisions, a major role was played by the extent of the remaining dentition. For example, in cases of interrupted arches, only prosthetic abutments with good long-term prognosis should be considered.
In such cases, Dr. Bäumer employs dental implants to increase the number of abutments to avoid the prosthetic loading of periodontally compromised teeth and the sacrifice of healthy tooth substance by preparation for classic fixed dental prostheses.
Horst Dieterich (Winnenden) did not want to advocate the case for implants without any restrictions, adding that the demands of patients and their individual situations required case-by-case decision-making. He highlighted the role of high-quality supportive periodontal therapy for long-term periodontal and peri-implant tissue health.
Aesthetic issues were the topic of the third session. Frederic Kaufmann (Würzburg) gave a detailed overview of root-coverage procedures and showed various surgical videos. He noted that the outcome of periodontal plastic procedures may be limited in periodontitis patients.
Based on extensive clinical documentation, Hans-Georg Kirchner (Munich) presented his step-by-step approach to anterior implant therapy, discussing surgical failures as well as successes.
Participants were given the opportunity to present their own clinical cases on stage before Daniel Bäumer (Munich) and Thea Rott (Cologne) concluded the day's proceedings with their own insights into clinical practice, which was followed by a fruitful discussion.
The 2017 Young Professionals Meeting ended with the traditional get-together of participants, speakers, and members of DG PARO Junior Committee in the laid-back atmosphere of a nearby restaurant.