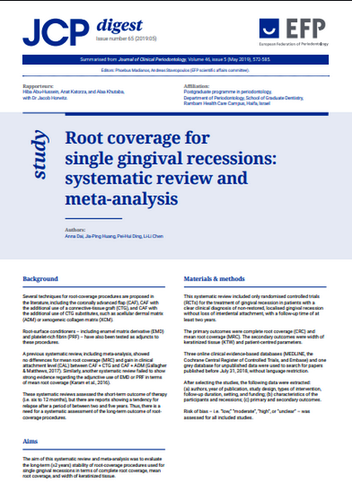 The combination of the coronally advanced flap (CAF) with a connective-tissue graft (CTG) is the therapeutic option that offers the best solution for root coverage of single gingival recessions, according to research published in the latest issue of JCP Digest.
A systematic review compared the performance of CAF alone with CAF plus CTG and CAF plus CTG substitutes; it also considered the adjunctive use of root-surface conditioners such as enamel matrix derivative (EMD) and platelet‐rich fibrin (PRF).
Summarised as JCP Digest 65, the research evaluated the long-term stability (more than two years) of root-coverage procedures used for single gingival recessions in terms of complete root coverage, mean root coverage, and width of keratinised tissue.
The researchers, at the Zhejiang University School of Medicine in Hangzhou, China, found that CAF alone may show some relapse over time and that the combination of CAF and CTG shows better long-term stability compared with CAF alone.
While EMD as an adjunct may enhance the stability of the results of CAF, there was not enough available evidence on the effectiveness of other root-surface modifications or on CTG substitutes in terms of long-term stability.
They concluded that "for single gingival recessions, the use of CTG+CAF yields the best and most stable root-coverage outcome."
The full research, published in the May issue of the Journal of Clinical Periodontology, was summarised for JCP Digest by postgraduate students in periodontology at the School of Graduate Dentistry, Rambam Health Care Campus in Haifa, Israel.