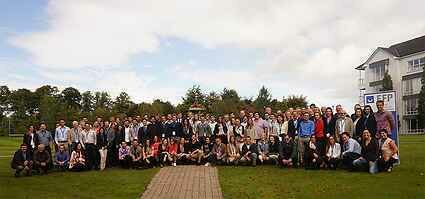 The EFP's 8th Postgraduate Symposium takes place from September 5 to 7, bringing together teachers and students from the 17 EFP-accredited programmes in periodontology to share clinical and research presentations.
Lectures and presentations will cover topics including peri-implantitis, bone-augmentation procedures, nutrition, and the new classification of periodontal and peri-implant diseases.
A hundred second- and third-year students from the programmes will attend, along with 32 teachers, plus EFP president Filippo Graziani, EFP elected officer Andreas Stavropoulos, members of the postgraduate education including chair Moshe Goldstein, and European co-ordinator Mónica Guinea.
The symposium takes place at the Aspenäs Herrgård Hotel in Lerum, near Gothenburg. It will be chaired by Ingemar Abrahamsson, professor of periodontology at the Sahlgrenska Academy at the University of Gothenburg, the accredited programme that is hosting the event.
The three-day symposium kicks off on Thursday afternoon with a welcome from professors Abrahamsson, Graziani, and Goldstein, followed by the opening lecture – "Peri-implantitis: Learning from pre-clinical models" – delivered by Prof Abrahamsson. After professional presentations from representatives of the two sponsors – Procter & Gamble and Dentsply Sirona – a dinner will be held.
New classification
On Friday, Mariano Sanz (professor of periodontology at the Complutense University of Madrid and chair of the EFP Workshop Committee) will give a lecture on the implementation of the new classification, a key project for the federation which earlier this year launched a toolkit to assist clinicians.
The rest of Friday and most of Saturday will then be devoted to research and clinical presentations given by students at the universities that teach the EFP-accredited programme. At the end of Saturday there will be debates on the diagnosis and treatment of peri-implantitis cases and mucogingival cases, led respectively by Prof Goldstein and Prof Anton Sculean (EFP immediate past president and professor of periodontology at the University of Bern, Switzerland).
The EFP Postgraduate Symposium takes place every two years and is organised by one of the 17 universities and hospitals that run EFP-accredited programmes in 12 different countries. Second- and third-year postgraduate students are invited as well as the programme directors and co-ordinators.
The symposium provides a special opportunity to bring these students together to benefit from a high-level, EFP-developed scientific discourse. The event also enables the directors of the accredited courses to meet and agree on updates to the EFP programmes.
"The EFP Postgraduate Symposium takes place every other year and has become an important event for the postgraduate programmes to meet, discuss strategies in periodontal and implant treatment, and also to harmonise the programmes," said Ingemar Abrahamsson. "The meetings seem to attract new programmes and students. They are, in particular, important for our young, future periodontists to meet, share ideas, and create new networks."
"This will be the eighth meeting of what has become a tradition within the EFP," added Moshe Goldstein. "We are looking forward to meeting colleagues and students from all the EFP-accredited programmes and expect it to be an exciting event."