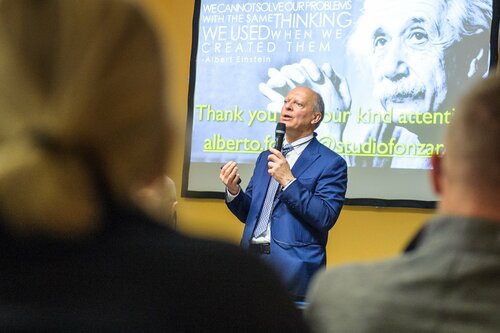 The Czech Society of Periodontology held a two-day meeting recently at which a wide range of clinical topics were discussed by local and international speakers.
Alberto Fonzar (Italy) gave a lecture at the "Periodontology Days at Frymburk" meeting on how to approach teeth in cases of severe periodontitis, explaining what the key question is, whether to extract or maintain teeth and, when maintaining them, choosing how best to do so.
Dr Fonzar focused on the periodontal evaluation, the careful examination of the periodontal state, and considering all possible conditions. He presented some of his therapeutic approaches and results, addressing issues including the treatment of furcation, conservative versus surgical therapy, and when it is better to use implants.
He recommended adopting a minimally invasive approach, trying to use the maximum healing capacity of the tissues, and allowing the tissues time to heal.
Pavel Poleník gave a lecture on the use of lasers in periodontology, demonstrating some clinical cases and using video animations. He argued that this form of therapy can successfully replace classical surgical therapy, with less invasiveness and a good prognosis in terms of recovery time.
Raul Polanski, from the University of Graz in Austria, explained treatment with the "Vector" ultrasonic system, showing how this method can be used during conservative periodontal treatment.
The other presentations during the meeting were:
Martin Šembera on a difficult case of periodontitis;
Jiří Krug on socket shield techniques;
Martin Starosta on therapy for aggressive periodontitis and on "not being afraid to use antibiotics";
Martin Tomeček on the precrestal sinus-lift technique as the "method of first choice";
Michael Kania on 20 years of the Czech Society of Periodontology;
Radovan Slezák, "Some contributions to the problems of contemporary Czech periodontology";
Petr Svoboda, "Simple biomolecules in toothpaste can be equally effective as strong antiseptics";
Tomáš Piksa, "What you maybe do not know about local anaesthesia";
Jaroslav Černušák on the importance of ethics.
Periodontology Days at Frymburg (in south Bohemia) took place on May 24 and 25. Elections were held on the first day and Ladislav Korábek from Prague was elected as the new chair of the Czech Society of Periodontology.
The society's next two-day meeting will take place in Mikulov on October 11 and 12.