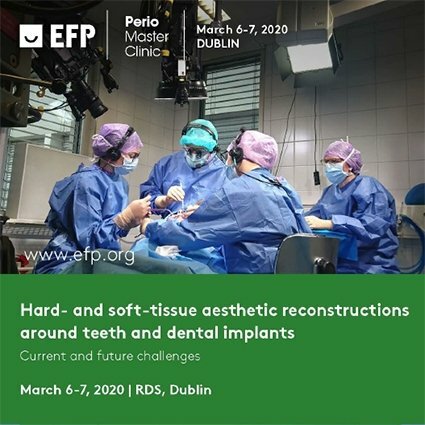 Plans for Perio Master Clinic 2020, which takes place in Dublin in March next year, are now well advanced and an important new feature has been added.
In addition to the core programme devoted to hard- and soft-tissue reconstructions around teeth and dental implants, there will be a series of related hands-on workshops, given by master clinicians.
On March 5 – the day before the main event – there will be six workshops that address all the challenges that need to be overcome to carry out successful regenerative procedures on patients.
These workshops will cover:
Periodontal regeneration in intrabony defects;
Periodontal regeneration in furcations;
Recession coverage (coronally advanced flap);
Recession coverage (modified coronally advanced tunnel);
Bone regeneration (guided bone regeneration);
Socket preservation.
Participants in the workshops will receive expert instruction on case selection, instrumentation, flap design, autogenous grafting techniques, the use of biomaterials, the use of barrier membranes, and suturing techniques.
They will also have ample opportunity to discuss their own experiences of periodontal regeneration with the experts.
The workshops also provide an additional opportunity for sponsorship in the area of equipment, hand instrumentation, and biomaterials.
The idea of adding workshops to the main programme came about because of the extremely practical, clinically based theme of the congress – regeneration.
"It's only by testing out new techniques with our own hands that we get a full appreciation of the difficulties and challenges in relation to a particular procedure," said Declan Corcoran, chair of Perio Master Clinic 2020. "These workshops will afford the participants an ideal opportunity to address these issues."
Nine sessions
The workshops will add value to what has become a key EFP event. The Dublin master clinic will be the fourth Perio Master Clinic, following those in Paris (2014), Malta (2017), and Hong Kong (2018).
Perio Master Clinic 2020 takes place on March 6 and 7 at the Royal Dublin Society in Dublin, Ireland. The programme, co-ordinated by scientific chair Anton Sculean (EFP president, 2018-19), involves nine sessions over two days covering all the important challenges involved in reconstruction around teeth and implants. The topics covered will be:
Reconstructive concepts in intrabony defects;
Reconstructive concepts in furcation defects;
Soft-tissue defects around natural teeth;
Novel concepts: outlook for the future;
Interactive case presentation (reconstructive surgery versus extraction and implant placement);
Socket grafting;
Ridge augmentation;
Soft-tissue grafting to maintain peri-implant health;
Complication management after reconstructive surgery at natural teeth and dental implants.
Regeneration is "the most exciting area of dentistry today", said Dr Corcoran. "Our programme will allow you to improve your own techniques and philosophies in the most challenging area of periodontal and implant therapy: regeneration of hard and soft tissues."
There will also be plenty of opportunity for participants and experts to engage in "soul-searching discussions on the presented topics," he added.
Registration opens in August
Registration for Perio Master Clinic 2020 will open in August. Places will be allocated on a "first come, first served basis" as there is a limit on the number of participants, a key feature of the Perio Master Clinic to ensure an optimal learning environment.
FULL DETAILS OF PERIO MASTER CLINIC 2020