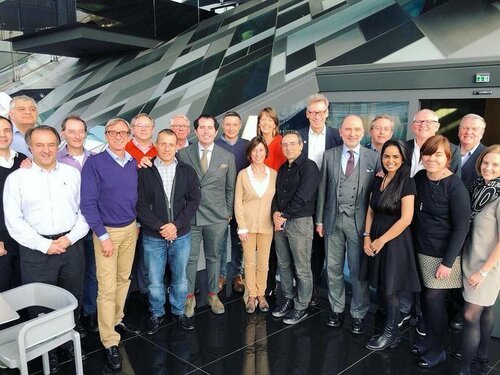 The general assembly of the EFP took place on Saturday, March 17 in Vienna, with a packed agenda as the federation reviewed its progress over the last year and evaluated the implementation of its strategic plan.
A total of 76 participants attended the assembly, at the Sofitel Vienna Stephandsdom hotel, which marked the end of Gernot Wimmer's year in office as EFP president.
After the assembly, Anton Sculean (Switzerland) became president for the following year. He has already identified action on periodontal health among senior citizens as one of his priorities.

The assembly ratified the executive committee's appointment of Nicola West (UK) as the EFP's future secretary general and Monique Danser (the Netherlands) as future treasurer. They will take up their positions after the general assembly in 2019, succeeding Iain Chapple and Jörg Meyle respectively.

Lior Shapira (Israel) is the new elected member of the executive committee, and will become the federation's president in 2021, following the presidencies of Anton Sculean, Filippo Graziani (2019-2020) and Xavier Struillou (2020-2021).
The main business of the assembly was a review of achievements during 2017 and taking decisions for the next year in relation to the EFP's strategic plan for 2017-2021, which was approved at last year's general assembly in Santiago de Compostela (Spain).
In addition to the assembly, on Saturday afternoon there was a meeting of the European Projects Committee, as well as a social-media training session led by Reena Wadia, the EFP's social-media co-ordinator.
The general assembly was preceded by a meeting on Thursday of the EuroPerio9 organising committee on Thursday, March 15 and of the EFP executive committee on Friday, March 16.
The assembly also included the award of the EFP Distinguished Scientist award to Jan Wennström (Sweden) and the EFP Distinguished Service Award to Stefan Renvert (Sweden).