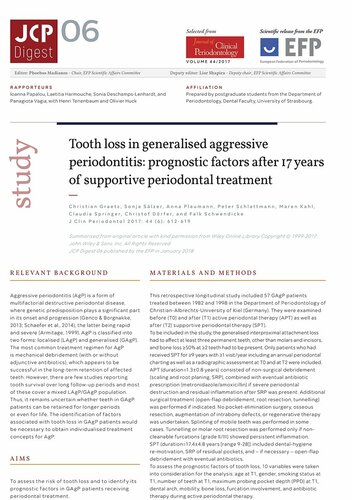 Aggressive periodontitis (AgP) is usually treated with mechanical debridement (sometimes with adjunctive antibiotics) but there have been few studies on long-term tooth survival in patients with the generalised form of this disease.
A retrospective longitudinal study, summarised as JCP Digest 06 (44:2017), sought to assess the risk of tooth loss and to identify its prognostic factors in patients with generalised aggressive periodontitis (GAgP) who are receiving periodontal treatment.
The researchers found a low rate of tooth loss in compliant GAgP patients and demonstrated the long-term and possibly lifelong retention of most teeth.
They also found that there was greater risk of tooth loss for teeth in the upper dental arch, teeth presenting residual probing pocket depth (PPD) of more than 6mm, teeth with furcation involvement, teeth with increased mobility, and among active smokers.
Researchers advised that early extraction of teeth in GAgP patients should be avoided – or at least postponed until the completion of active periodontal therapy – when the possible prognostic factors can be assessed comprehensively.
The research was carried out by a team of German researchers, led by Christian Graetz and based mainly at Kiel University. It was summarised for JCP Digest by students at the EFP-accredited postgraduate course in periodontology at the University of Strasbourg (France).
The original research was published in the June 2017 issue of the Journal of Clinical Periodontology, the EFP's official scientific journal, edited by Maurizio Tonetti, which has an impact factor of 3.477.