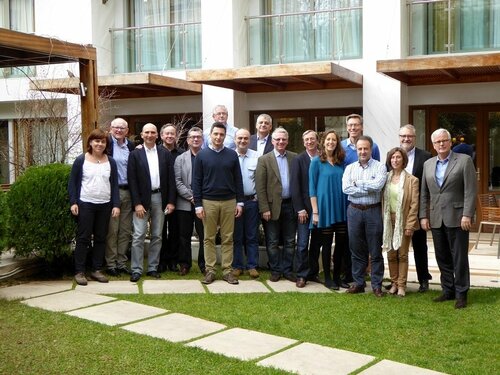 The EFP executive committee meeting and general assembly took place at the Electra Palace Hotel in Athens's historic Plaka area on March 27 and 28, 2015. The assembly swore in a new EFP president and took key decisions which included electing the organising committee for EuroPerio9.
Sören Jepsen became the new EFP president at the meeting in Athens, taking over the role from Phoebus Madianos (Greece). The assembly selected Anton Sculean (Switzerland) as a new EFP officer and as president for 2018-2019.
The president-elect, who will take over in April 2016, is Juan Blanco (Spain), while Gernot Wimmer (Austria) will be president for 2017-2018.
Iain Chapple (UK) was appointed as the next EFP secretary general and will take up this position in April 2016 when Stefan Renvert (Sweden) stands down.
The assembly also appointed Tiernan O'Brien (Ireland) as chairman of the External Affairs Committee (EAC). He will replace the current chairman, Edwin Winkel, in April 2016.
Mariano Sanz (Spain) was appointed to continue as chairman of the organising committee of the European Workshop in Periodontology (EWP).
Michèle Reners (Belgium) will chair the committee to organize EuroPerio9, which takes place in Amsterdam in 2018, with Sören Jepsen as scientific chairman and Gernot Wimmer as treasurer. Their candidacy strongly supported the participation of EFP national societies and the younger generation of periodontists.
The assembly also selected the Istanbul 2017 proposal for the Master Clinic Conference. This event, with the theme 'Peri-implantitis: from etiology to treatment', will take place in Istanbul on March 3 and 4, 2017, chaired by Korkud Demirel (Turkey), with Stefan Renvert as scientific chairman.
The meetings were well attended. There were 16 participants in the executive committee meeting on Friday, March 27 and 70 participants, representing the EFP's 29 national societies, in the general assembly on Saturday, March 28.