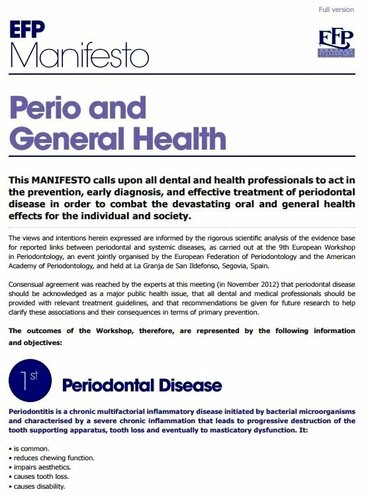 After launching the European Periodontology Day last year, the EFP is celebrating its second edition today, May 12, by calling for greater awareness of periodontal disease and increased action on prevention.
The aim of the European Periodontology Day is to emphasise the importance of encouraging awareness of gum health because of its links with oral health and general health.
Periodontal diseases are the most common conditions suffered by European citizens, but at the same time they are among the least acknowledged. Many patients are unaware that 80% of EU citizens older than 35 years suffer from a form of gum disease and that untreated gum problems can have significant adverse impact on general health.
That is why the European Periodontology Day seeks to bring into public focus the relationship between periodontal disease and various systemic conditions – such as diabetes and cardiovascular disease. The EFP believes that European Periodontology Day serves to raise awareness of periodontal health and to encourage the exchange of knowledge among oral-healthcare professionals, other health professionals (in fields such as cardiology, diabetes, and gynaecology and obstetrics), and policymakers.
This message coincides with the EFP Manifesto 'Perio and General Health', which the EFP encourages all oral-healthcare professionals, dental institutions, dental practices, schools, and members of the wider medical community to sign. The Manifesto can be seen and signed at www.efp.org/efp-manifesto.
To make the case for a bigger role of periodontology in general health and public health, the EFP is organising a meeting at the European Parliament in Brussels on June 17, at which key perio figures will meet members of the European Parliament, European Commission officials, and other European stakeholders.