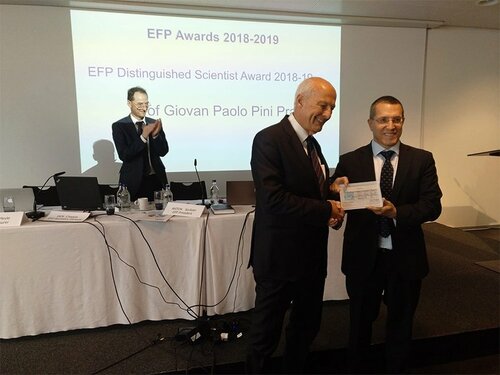 At its recent general assembly in Bern, Switzerland, the EFP gave its Distinguished Scientist Award to Giovan Paolo Pini Prato, former professor of periodontology at the University of Florence and a world-renowned expert in periodontal surgery.
Prof Pini Prato was presented with the award by former EFP president Anton Sculean, whose year in office culminated with the Bern general assembly.
In proposing the veteran Italian periodontist for the award, the board of the Italian Society of Periodontology and Implantology (SIdP) said that he had "tremendously contributed to the development of knowledge in periodontology over the last three decades."
After receiving his degree in medicine in 1965 and specialist certification in dentistry in 1967, Pini Prato was involved in clinical research in the early 1970s at the University of Florence, where he became an assistant in 1977 and a clinical researcher in 1980.
He moved to the University of Siena as full professor in 1990, before returning to Florence as professor of periodontology and dean of the dental hospital until his retirement in 2011.
A founding member of the SIdP, Prof Pini Prato served as president of the society from 1993 to 1995.
Over the last 35 years, he has published more than 160 original articles, indexed on PubMed, that have achieved more than 4,500 citations. Pini Prato acts as referee and editorial board member for various journalists and has lectured extensively lectured over the world. He maintains a private clinic in Florence focused on periodontology.
As the SIdP nomination noted, his research activity contributed to the knowledge of the wound-healing process, the development of guided tissue regeneration for infrabony defects and treating gingival recessions, the advance of modern techniques in periodontal plastic surgery, and the assessment of long-term effect and prognosis of periodontal therapy.
In 2016, the EFP published a video interview with Prof Pini Prato as part of its "Perio Greats" series, in which he talks about his long career, his work in guided tissue regeneration (GTR), and the development of mucogingival surgery.
"Prof. Pini Prato is one of the 'fathers' of modern Italian periodontology," said EFP president Filippo Graziani. "In particular, he had the merit of bringing the scientific approach to mucogingival surgery."
The EFP Distinguished Scientist Award is given in recognition of outstanding contributions to the understanding of the field of periodontology and the diagnosis and treatment of periodontal diseases through published literature and for contributions to pre- or postdoctoral education and/or scientific conferences or symposia.