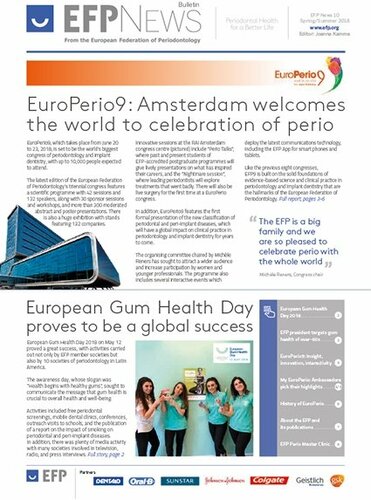 The latest issue of EFP News, the twice-yearly bulletin from the European Federation of Periodontology, gives pride of place to a preview of EuroPerio9, the subject of three separate articles:
Congress chair Michèle Reners and scientific chair Søren Jepsen describe the ingredients that make EuroPerio9 special: insight, innovation, and interactivity.
A two-page article offers highlights of the EuroPerio9 scientific programme chosen by the congress ambassadors, who have worked over the last 18 months within each of the EFP's 30 member societies to promote the big event in Amsterdam.
A history of EuroPerio, from the first congress in Paris in 1994 to the big event that takes place 24 years later in Amsterdam.
This issue of EFP News also features a report on European Gum Health Day 2018, held on May 12, which featured events and media activities in more than 40 countries in Europe and Latin America.
Other highlights of the bulletin include an article in which EFP president Anton Sculean outlines his plans for a campaign on the oral health of older people, and a preview of the big EFP events of the next two years: the two editions of EFP Perio Master Clinic in Hong Kong in 2019 and Dublin in 2020.
All EuroPerio9 participants will receive a free printed copy of this edition of EFP News inside their congress bags.