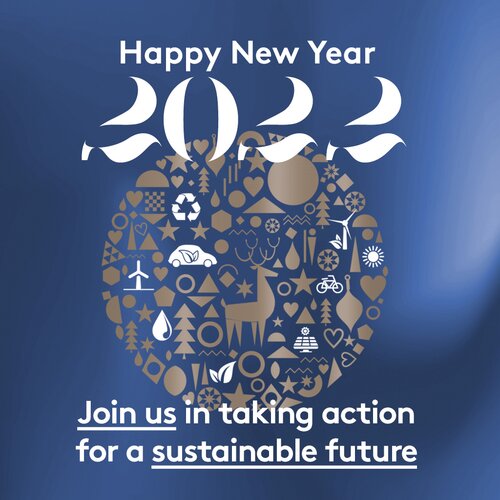 Lior Shapira, president of the EFP, has placed the emphasis on sustainability in his holiday and New Year message to members of the EFP's affiliated national societies of periodontology and the wider periodontal community:
Dear friends,
On behalf of the EFP, its 37 affiliated societies, and the more than 16,000 dental professionals who are their members, I would like to wish you and your loved ones happy holidays and a very fruitful and healthy New Year. Today, more than ever, as we celebrate the 30 years of the EFP, it is time to take a deep breath, look back at 2021, prepare for the immediate future, and consider adopting some resolutions for the coming year.
We need to act for sustainable change. A science-driven effort for a sustainable world able to effectively tackle climate change and the Covid-19 pandemic. Both these global, systemic threats have in common that fighting them implies going beyond our comfort zone, challenging our force of habit, and trusting evidence rather than preconceptions and practice.
For us at the EFP, sustainability means rethinking how we act and how we expand our global strategy in an ethical manner. We take both science and sustainability seriously, so we are working on various sustainability measures for our 2022 conferences: International Perio Master Clinic 2022 (February, in León, Mexico) on hard- and soft-tissue aesthetic reconstructions; EuroPerio10 (June, in Copenhagen, Denmark); Postgraduate Symposium 2022 (September, in Belgium); and Perio Workshop 2022 (November, in La Granja, Spain), which will draw up a clinical practice guideline for the treatment of peri-implant diseases. These steps will follow some initiatives introduced in 2021, including our Sustainability Manifesto.
Science has been a major driver at the EFP during 2021. Our Perio Workshop 2021 in November created a clinical practice guideline on the treatment of stage IV periodontitis. We also disseminated the new perio classification, the EFP clinical practice guideline for the management of stages I-III periodontitis, our campaigns focused on patients and the oral-healthcare team, and our EFP Virtual initiatives.
During 2021, our publication Journal of Clinical Periodontology became the top dentistry journal in the world. In May, Gum Health Day 2021 reminded the public that "Gum diseases are preventable", and in June the EFP-commissioned report "Time to take gum disease seriously" was published by the research division of The Economist analysing for the first time the financial and human cost of periodontitis in six countries.
Next year, 2022, will be a year of a change – hopefully a sustainable one. And at the EFP we have a great opportunity to keep advancing the causes of periodontology and gum health to the benefit of our patients, our students, and our members. Let's make sustainability our priority in the world.
See you all at EuroPerio10 in Copenhagen!
Lior Shapira
EFP president