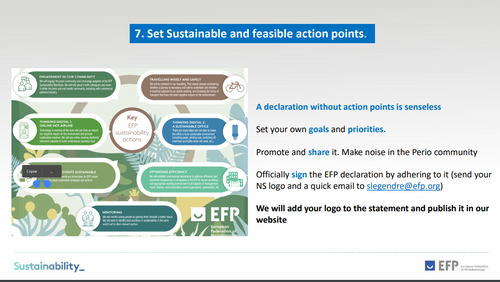 Following the EFP general assembly on Saturday 20 March, an online workshop was held on how federation can work together with its affiliated national societies in improving sustainability.
EFP secretary general Nicola West and head of operations Sharon Legendre gave a detailed presentation in which sustainability was hailed as a corporate responsibility and not just a matter of "becoming 'Green'".
The presentation explained key concepts in sustainability and outlined how national perio societies could get started in working in this area.
First, the presentation explained that sustainability is usually defined as "the processes and actions through which humankind avoids the depletion of natural resources, in order to keep an ecological balance that does not allow the quality of life of modern societies to decrease. Many environmentalists and ecologists argue that sustainability is achieved through the balance of species and the resources within their environment."
Then, Nicola West and Sharon Legendre outlined the three main concepts in sustainability: the circular economy, the sustainable development goals (SDG) established by the United Nations in 2015, and sustainable corporate governance (SCG).
Noting that politics and regulators are "moved by corporate efforts", the presentation argued that sustainable transformation will be achieved through businesses, companies, institutions, and organisations. It mapped out the elements of sustainable corporate governance – accountability, responsibility, equitable treatment, transparency, vision to create long-term value, and ethics – and explained how the EFP had sought to apply them.
The second part of the presentation, headed "How to get started as a national society", offered 10 key points for consideration:
Get a sense of what "sustainability" means as an individual and as a corporation for the future.
Change your mindset – "This is a right time: the pandemic has helped to change the minds of many people. Sustainability is unstoppable and companies/organisation that do not change will have problems in the future."
Name a committee or a leader in sustainability within your organisation.
Use the UN sustainable development goals as a starting point.
Use the EFP's sustainable corporate governance exercise to create your own.
Write a sustainability declaration and sign the EFP declaration.
Set sustainable and feasible action points.
Share your progression with colleagues, friends, partners/sponsors, and other national societies.
Regularly reassess and measure your impact.
Explore certification and ecolabels.
Some final thoughts for consideration included: "Change your mindset, work emotionally", "Transform holistically: overcome resistance", "Decide on what you care about", and "Sustainability only works with optimism".
One outcome of the workshop, which was attended by 28 participants, is that there will be a continued exchange of ideas between the EFP and the national societies about sustainability and a WhatsApp group has been set up to facilitate this. This group will consider issues such as how to be more sustainable at periodontology congresses and in dental practices and will also explore ideas with the EFP's partners.
"I am delighted at the number of people who attended this meeting and the keen and enthusiastic conversations that took place to further sustainability across the national societies in the EFP," said Nicola West.
"I first introduced the concept of sustainability to the EFP at the strategic planning meeting in Brussels in July 2019 and it was subsequently firmly embedded in our 2021-2025 strategic plan and in our Sustainability Manifesto in 2020. Actions are now being implemented in the EFP with an overarching theme of sustainability across our business. I am thrilled that this recent meeting was so fruitful, and I feel we have found real champions for sustainability in our national societies."