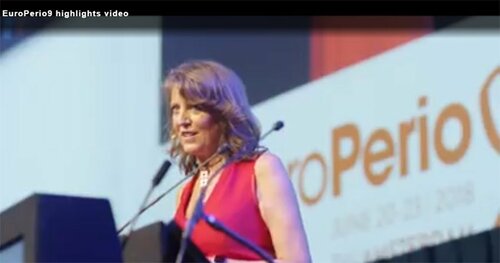 A lively video of highlights from EuroPerio9 has been released by the EFP, capturing the atmosphere of the hugely successful congress held in Amsterdam from June 20 to 23.
The short video, available in the Perio Video section of the EFP website (and also on the federation's YouTube channel), shows everything from the preparation of the RAI Amsterdam congress centre to the closing ceremony.
With a lively musical soundtrack, the video features images from the opening ceremony and various scientific presentations, as well as coverage of the exhibition and social events such as the congress party.
Key speakers at the four-day congress offer their concise opinions of what EuroPerio means to them. For Peter Eickholz (Germany), EuroPerio is "exciting", for Mariano Sanz (Spain) the congress is "my life", and for EFP secretary general Iain Chapple (UK), it is "just pure adrenaline".
EFP president elect Filippo Graziani (Italy) summed it all up as: "EuroPerio is really the people that make periodontology."