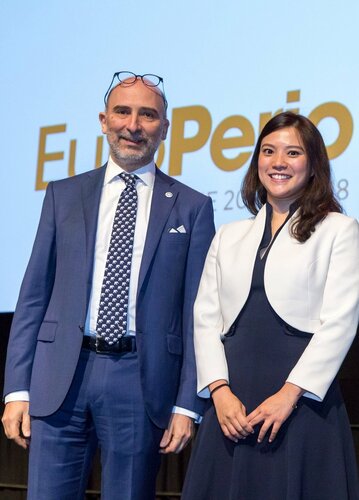 The prize for Perio Contest 2018 was awarded on the final day of EuroPerio9 to Teresa Chanting Sun (Taiwan) for a case report on the comprehensive management of the severe periodontitis patient.
This competition for the best single-case report was organised the EFP and the EuroPerio9 organising committee, in collaboration with Zerodonto, an Italian dentistry blog.
The two other finalists were Claudio Di Gioia (Italy) for the case study Root-coverage procedures in a young female, and Michi Katafuchi (USA) and Armand Putra (Australia) for Aesthetic reconstruction of traumatised pre-maxilla.
All three presented their cases at a special session at RAI Amsterdam on Saturday 23 June. The winner was chosen through a composite score obtained from a live poll carried out at the session and input from the evaluation committee.
The three finalists had been chosen by online voting after an evaluation committee panel had selected the 10 best cases from the 137 that were submitted. These 10 cases have been published in a special section on the EFP website.
The winner received a 3D printer provided by Straumann and all three finalists were given free registration for EuroPerio9 and a travel grant.
Teresa Chanting Sun's report covered the successful treatment of a patient who suffered from severe periodontal disease. The clinical parameters dramatically changed after inflammation and infection were controlled, and the final outcomes showed that the prognosis of teeth can be changed by proper treatment.
In this case, a maintainable oral environment was established, there was a highly motivated and co-operative patient, and supportive periodontal therapy was provided regularly to achieve the longevity and stability of a healthy periodontium.
The evaluation committee comprised Søren Jepsen, EuroPerio9 scientific chair, and Maurizio Tonetti, editor of the Journal of Clinical Periodontology, together with Diego Velasquez, Pierpaolo Cortellini, Rony Jung, Tomohiro Ishikawa, and Otto Zuhr.