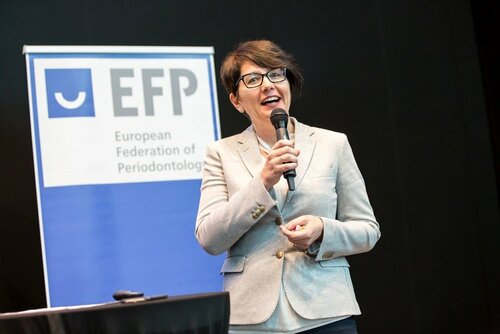 At its recent general assembly, the European Federation of Periodontology accepted the Lithuanian Society of Periodontology as a full member.
After fulfilling five years as an associate member, the society was eligible for full membership. The EFP now has 26 full members and four associate members.
"For us being a full member is quite important as it means that – although we are small society from a small country – we are just as strong and modern, just as loving and believing in periodontology as the rest of Europe, as well as sharing the same attitude, knowledge and ideas," said Jūratė Žekonienė, president of the Lithuanian Society of Periodontology.
Established in 1997, the society is open to periodontists, oral hygienists, dentists of other specialities, and researchers who express their willingness to participate in society activities.
There are 77 practising periodontists in Lithuania, where the speciality was officially recognised in 1999.
An EFP associate member since 2013, the Lithuanian society organises annual conferenes and hands-on courses, and has been recognised by the Lithuanian Dental Chamber as a provider of continuing education. Since 2015, a representative of the society has been a member of the jury during the final residency exams of postgraduate periodontology programmes at Lithuanian universities.
The Lithuanian Society of Periodontology celebrated its twentieth anniversary in March 2017 with a scientific meeting that featured leading international speakers including Niklaus Lang, Stefan Renvert, Wim Teughels, and Giedre Matuliene.
The society was an active participant in European Gum Health Day in both 2016 and 2017, when it handed out leaflets about gum health in shopping centres and also took the message about the importance of periodontal health to general health to several high schools in Vilnius. The society has plans for a range of activities for this year's awareness day on May 12.