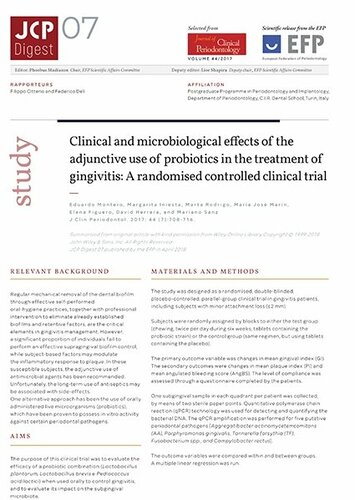 A clinical trial of the efficacy of probiotics in controlling gingivitis has shown promising results.
A randomised, double-blinded, placebo-controlled, parallel-group clinical trial in gingivitis patients, summarised as JCP Digest 07 (44:2017), assessed the effect of a probiotic combination when used orally to control gingivitis, and evaluated its impact on subgingival microbiota.
The researchers found that the use of this probiotic combination was successful in reducing the number of sites with severe inflammation in gingivitis patients.
In addition, it demonstrated a significant microbiological impact by reducing the counts of the periodontal pathogen Tannerella forsythia (TF).
The research was carried out by a team of Spanish researchers, led by Eduardo Montero, at the Complutense University in Madrid. It was summarised for JCP Digest by students at the EFP-accredited postgraduate course in periodontology at the C.I.R. Dental School in Turin (Italy).
The original research was published in the July 2017 issue of the Journal of Clinical Periodontology, the EFP's official scientific journal, edited by Maurizio Tonetti, which has an impact factor of 3.477.