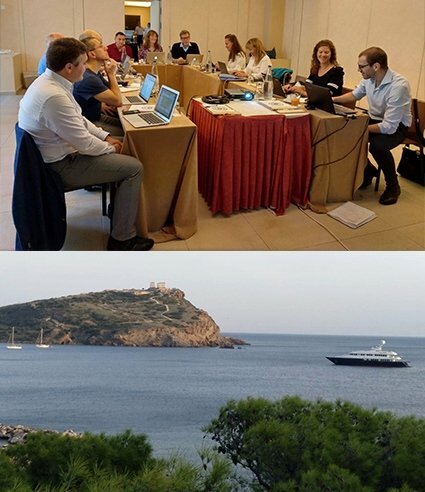 Members of the EFP's executive committee are meeting in Cape Sounion, near Athens (Greece) from October 18 to 20 to review the federation's progress and to prepare for the months ahead leading up to the next general assembly in March 2019.
Among the topics that will be discussed are progress with discussions with various non-European societies of periodontology that are interested in joining the EFP in the new category of international associate member.
Societies that have expressed interest in taking up this form of membership include those of Australia, Brazil, Japan, Lebanon, Mexico, and Taiwan.
Another key topic will be plans to disseminate the new classification of periodontal and peri-implant diseases – developed by the 2017 World Workshop and launched formally at EuroPerio9 in June – to clinicians and oral-healthcare teams on how to implement it in daily practice.
A review of EuroPerio9 – the biggest-ever edition of the EFP's triennial congress – will take place over the weekend. There will also be a discussion of the performance of European Gum Health Day 2018 and of plans for next year's May 12 awareness day which – reflecting the EFP's increasingly global rather than European profile – will be called simply "Gum Health Day 2019".
Also on the agenda are updates on planned workshops and the EFP's projects with its partners, the latest of which – Perio & Diabetes, with Sunstar – is due to launch next month.
"The EFP has some critically important initiatives to refine during the Athens meeting, ready to take to our general assembly in March 2019," said Iain Chapple, EFP secretary general.
"The federation is going through significant change with some very senior and experienced officers stepping down, and keen younger replacements being sought. We are proud that our incoming treasurer and secretary general – Monique Danser (the Netherlands) and Nicola West (UK) – are both women, which is I believe the first time ever for each of these posts."