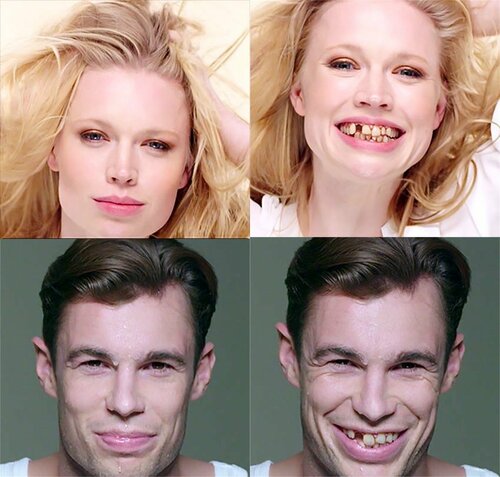 The British Society of Periodontology (BSP) made a big impact on May 12, the European Day of Periodontology, thanks to a hard-hitting media campaign drawn up by one of the world's leading advertising agencies.
The campaign combines "shock videos" that were screened at a busy shopping centre with an informative – and humorous – social-media campaign that has so far reached more than two million people.
It provides a model of how to communicate with the public about periodontal disease and gum health. Perio Insight tells the story of the campaign.
Two years ago, the BSP approached Ogilvy & Mather, part of the WPP group and one of the world's leading advertising agencies, about working to market the documentary film The Sound of Periodontitis, which tells the story of gum disease and treatment from the perspective of patients.
Although this did not lead to a collaboration with the agency, Ogilvy became interested in the question of gum health which it recognised as an important but neglected public-health issue.
As an agency which considers corporate social responsibility to be important, Ogilvy has often worked on a pro-bono basis with charities and non-governmental organisations, including Amnesty International, Operation Smile, the Global Media AIDS Initiative, and the World Wildlife Fund.
Eighteen months ago, it came back to the BSP saying that it would like to offer its services for a public-awareness campaign about gum health.
"We recognised that the BSP had an interesting mission to improve public awareness and understanding of gum disease," explains Rupert Doggett, operations director of Ogilvy Healthworld Advertising.
"This was something we were keen to work with, as a big part of our business at Ogilvy is in inspiring better health decisions. So we began discussions with the BSP about how we could work with them to develop a public-awareness campaign on gum disease."
Doggett adds that Ogilvy occasionally chooses to provide pro-bono support to "charitable organisations which we consider to be aligned with our strategy of doing outstanding creative work that will change behaviour.
So the agency offered the first part of the campaign-development process – the idea-generation stage – for free "in order to preserve the limited funds available to actually producing the final chosen idea and making it happen."
The actual making of the video with professional models, director, and production team implied a major spend for the BSP. So the society went to its partners and secured their backing for the campaign.
The campaign is supported by the BSP's partners (Johnson & Johnson, GSK, Dentsply, Philips, Oral-B, Dexcel and Henry Schein), in association with the British Society of Dental Hygienists and Therapists and the British Association of Dental Nurses.
"The BSDHT and BADN have been fantastically supportive in reaching out with the campaign to dental practices nationally," says Ian Needleman, the BSP's president-elect. "Very significantly, we were delighted that the campaign has been endorsed by Public Health England, which tells you just how fundamental to public health this issue really is."
Ogilvy worked with the BSP to determine the campaign's strategic objectives and, when these were agreed, got down to work on the creative brief. The agency calls this a "Do Brief" because the aim is to get the target audience to do something – in other words, to change their behaviour.
A two-day creative workshop was held with various creative teams and this generated a range of approaches. A shortlist of ideas was then put to the BSP Council – including "Don't let your mouth get you into trouble", centred on celebrities saying things they should not say, and "Secure your smile", involving the global trend of fastening padlocks to objects in public places – before the BSP opted for "Don't let gum disease wipe the smile off your face."
For Ogilvy, the main challenge was then to come up with a means to spread the message as widely as possible but with a limited budget.
"Traditionally, to reach a broad public audience with an awareness message the best medium is TV supported by print and outdoor media," explains Doggett. "However, the BSP were not able to afford any significant media spend, which meant we had to come up with an idea that people would share themselves.
"In other words, we had to think of our target audience as a key media channel in itself and create something that people would want to share. A key part of this was making sure we depicted what gum disease really looks like in a very realistic, high-impact way."
Social media campaign
The BSP had been working on the idea of launching an awareness campaign for some time and when the EFP started to coordinate activities for the European Day of Periodontology, it decided that it made sense to stage the campaign around this international event on May 12, which the BSP dubbed "Gum Health Day".
A section of the BSP website was dedicated to the campaign with the hashtag, also used on social media, of "#howsyoursmile".
This invited people to wear a "mouth card" – a square card with a section at the top cut away so that it can be hung from the nose – with teeth that are severely compromised from a periodontal point of view, thus instantly changing the wearer's smile.
About 90,000 of these cards, with six different smiles, were produced and distributed, initially through the dental profession by mailings and at national conferences and then directly to the public at major sporting and leisure events. The cards can also be downloaded in pdf form from the BSP website.
The idea is that people take a "selfie" photograph of themselves wearing it (which the BSP has dubbed a "mouthie") and post it on social media
People were invited to use the hashtag #howsyoursmile on Twitter to share their photographs (so that they can be featured also on the campaign section of the BSP website) and be entered into a prize draw.
The mouth cards were made by UK company Facematt which produces similar cards for parties. On the rear side, the cards bear clear information to the public about gum disease:
Don't let gum disease wipe the smile off your face.
See your dentist if you have:
Red or tender gums
Bleeding gums
Receding gums
Loose teeth
The cards also advise people to brush their teeth twice a day and to use an interdental brush or floss before brushing.
The #howsyoursmile social-media campaign, involving both the mouthies and two short videos, has clocked up more than two million shares on social media overall, which represents a huge reach.
Shock video
The centrepiece of the campaign designed by Ogilvy involved two "shock" video clips which feature attractive models (a man and a woman) who smile to reveal teeth that have been badly affected by gum disease.
The videos use humour, but they are hard-hitting and end with the campaign slogan "Don't let gum disease wipe the smile off your face" and the advice about going to the dentist that featured on the mouth cards.
"We knew the effect that we wanted from the video, which had to centre on an attractive face which then reveals a smile seriously affected by periodontal disease," explains BSP president Phil Ower. "Much discussion followed about how we could achieve this, bearing in mind we would be unlikely to find a model who had the sort of smile we needed!"
It came down to a choice between CGI (computer-generated imagery) or prosthetics and the BSP decided that a more convincing look could be achieved by the latter, although some CGI needed to be included in post-production.
Ogilvy identified a UK company called FangsFX which provides dental prosthetics for major film productions, most recently Leonardo DiCaprio's and Tom Hardy's teeth in The Revenant, and previously for films including Star Wars, Mary Shelley's Frankenstein and Charlie and the Chocolate Factory.
The BSP worked closely with FangsFX to produce the models' perio smiles. "The resulting mouths were just what we wanted, including tooth drifting and gingival inflammation," says Dr Ower. "The only thing that was not possible with prosthetics was a missing upper anterior tooth, but we were able to do this post-production using CGI techniques."
He adds that getting the look absolutely right was quite a challenge: "What we were very conscious of was how to get a shocking smile effect but to avoid something that looks like 'party teeth', which would just produce laughter."
Filming took place in April in an East London film studio, with both Ower and Needleman present to advise on the details of the effect that we wanted to produce.
Ogilvy also had a separate cameraman present at the shoot, which meant that during the filming the BSP president and president-elect were able to record several short educational health messages which are also being used in the campaign.
Westfield event
As well as being released in a low-resolution version on the BSP website and its social-media pages, the videos were given their public premiere during the week around the European Day of Periodontology at the Westfield shopping centre in White City in West London, one of the busiest commercial centres in the UK capital
The videos were shown on a large LCD billboard, while BSP volunteers handed out leaflets, mouth cards, and engaged with members of the public. People were encouraged to take "mouthies" and tweet them, and as they did so the images appeared on a huge screen in the central hub area of the shopping centre.
The BSP found that there were two typical reactions from the public. While some people would simply walk on by, those that stopped to talk would end up in conversations about gum health that would last for about 10 minutes.
While this meant that those who did engage received detailed information about periodontal disease, gum health and treatment options, it was not possible to engage with so many people.
One of the lessons the BSP learnt is that this one-to-one engagement is perhaps not the most effective way to get the message across. All the key information that people needed was on the leaflets and mouth cards, so in future events like this the approach is likely involve handing out material to as many people as possible rather than to stopping to talk to a smaller number.
The Westfield event was also filmed by Ogilvy and a short video has been produced showing members of the public wearing mouth cards. This video will also feature in the social media campaign.
Lessons learnt
"This campaign has been a very steep learning curve for the BSP in so many ways but one that has been extremely valuable for us in trying to promote better public awareness of the importance of gum health to the general public, which has been a key strategic aim," says Ower.
"We've never undertaken a project of this complexity – or expense – before and we couldn't have done it without the support of a wide range of professionals, especially Ogilvy Healthworld. We've had a great relationship with Ogilvy, who have never tried to push us into anything that we didn't want to do. They've listened to us all along and helped us to produce the campaign that we could be comfortable with."
Ian Needleman adds: "We have also found that engagement with a wide range of groups was an important element in success. Ideas from members of the public, public health, dental professionals and industry were all incredibly helpful in forming the campaign.
"It has been an incredibly exciting team initiative and is changing the perception of gum health in the UK. What is also interesting is how it is changing the perception of the BSP in such a positive way."
For Ogilvy, Doggett says "Firstly, we have all learned a lot about gum disease and how to take better care of our gums! Also, judging from the amount of times the films have been shared on social media, gum disease is clearly a subject that the public are interested in learning more about and it suggests more work is needed here.
"One other point we have taken away from this process is the importance of keeping the idea both simple and fun for people to engage with."
The BSP believes that other EFP-affiliated societies could benefit from its experience in developing this campaign.
Phil Ower has some words of advice. "If any other national societies are considering any sort of campaign on this scale we would advise early planning, involve as many people as possible to check on the details, and expect it to go over budget – in the same way that all major projects tend to!"