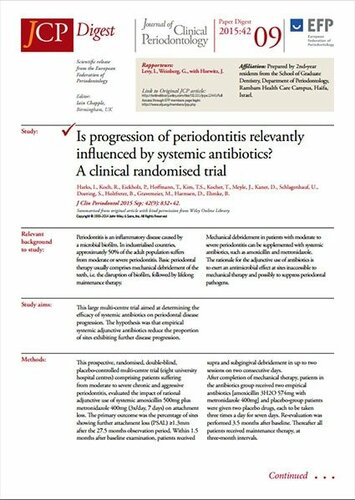 The question of whether the progression of periodontitis is relevantly influenced by systemic antibiotics is tackled in research published in JCP Digest 09 (2015:42).
The use of antibiotics adjunctively to treat patients with moderate to severe chronic periodontitis with the aim of exerting an antimicrobial effect at sites that are inaccessible to mechanical therapy (debridement) and also to suppress periodontal pathogens is controversial. Their use for managing aggressive periodontitis is accepted.
The research summarised in this edition of the JCP Digest tested the hypothesis that empirical systemic adjunctive antibiotics reduce the proportion of sites that exhibit further disease progression. Researchers carried out a randomised, double-blind, placebo-controlled multi-centre trial involving eight university hospital centres.
The results showed small clinical differences between the two groups (those receiving systemic adjunctive antibiotics and those receiving the placebo) and the there was only a "small absolute, although statistically significant, additional reduction in further attachment loss."
The researchers concluded by advising periodontists to consider their patients' overall risk for periodontal disease when deciding whether to use adjunctive antibiotics.
It should, however, be remembered that the environmental impact of the over-prescription of antibiotics is significant and the EFP consensus report findings from the 2008 European Workshop in Periodontology still appear pertinent today:
Due to the problems related with the indiscriminate use of antimicrobials (especially systemic side effects, microbiological adverse effects and the increase in bacterial resistances), the use of systemic antimicrobials in periodontitis should be restricted to certain patients and certain periodontal conditions:
Specific patient groups (such as in aggressive periodontitis).
Periodontal conditions (such as in severe and progressing forms of periodontitis).
Their prescription, however, should be considered on a case-by-case basis.
The research, published in full in the Journal of Clinical Periodontology (JCP) in September 2015, was carried out by researchers at universities in Germany (in Münster, Frankfurt, Dresden, Heidelberg, Greifswald, Glessen, Berlin, and Würzburg) and Austria (Vienna).
The research was summarised for the JCP Digest by residents of the postgraduate programme of periodontology at the Rambam Health Care Campus, Haifa, in Israel.
JCP Digest 09 is available in English, French, German, Italian, Portuguese and Spanish.