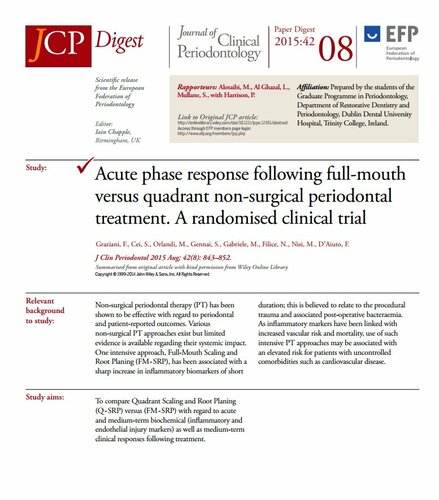 The potential risk from the use of intensive approaches to periodontal therapy in patients with uncontrolled comorbidities such as cardiovascular disease is analysed in research published in JCP Digest 08 (2015:42).
One particular form of non-surgical periodontal therapy – full-mouth scaling and root planing (FM-SRP) – has been associated with a sharp increase of inflammatory biomarkers of a short duration.
The study, by researchers at the University of Pisa and the UCL Eastman Dental Institute in London led by Filippo Graziani, compared FM-SRP with quadrant scaling and root planing (Q-SRP) in terms of medium-term biochemical markers responses (inflammatory and endothelial injury markers), as well as medium-term clinical responses following treatment.
It found that in terms of clinical benefit in periodontal parameters after 90 days there were "no significant differences" between the two methods. But there was a statistically significant increase at 24 hours in serum levels of inflammatory biomarkers in subjects who received FM-SRP compared with those who received Q-SRP. A statistically significant elevation in body temperature was also noted in the FM-SRP group after 24 hours.
The research, published in full in the Journal of Clinical Periodontology (JCP) in August 2015, concluded that FM-SRP triggers a moderate acute-phase response of at least 24-hours duration compared to Q-SRP. This could be the result of bacteraemia and/or increased local trauma to soft tissues, possibly associated with the increased periodontal pocket surface area instrumented and the increased treatment time involved in this procedure.
The researchers suggested that "in patients with complicated medical histories and/or uncontrolled comorbidities, it may be prudent for clinicians to follow a conventional quadrant-scaling approach."
The research was summarised for the JCP Digest by rapporteurs who are residents of the postgraduate programme of periodontology at the Department of Restorative Dentistry and Periodontology, Dublin Dental University Hospital, Trinity College, Ireland.