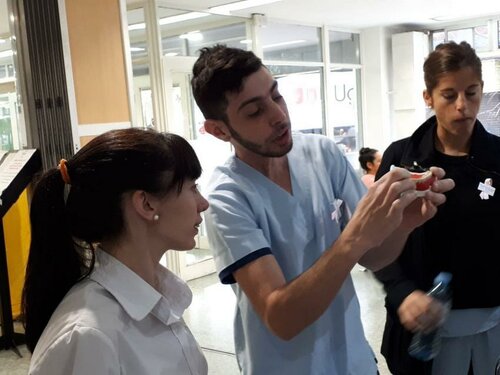 The Argentine Society of Periodontology (SAP) celebrated Gum Health Day 2019 by running a "Por una sonrisa saludable" [For a healthy smile] campaign and inviting people to visit its website for more information and to carry out periodontal-health self-testing.
The society also visited the dental departments of various universities and hospitals across Argentina, where it set up information stands to explain periodontal diseases, how to prevent them, and the oral care needed to keep gums healthy.
The society gave demonstrations of oral-care techniques and handed out leaflets to more than 1,800 people, who were also given free toothbrushes, interdental brushes, and other oral-hygiene tools.
"It was a very enriching experience, not only for the 120 students that took part but also for the 15 teachers and other auxiliary staff who collaborated," said Claudia Sofia Bevilacqua, SAP president.