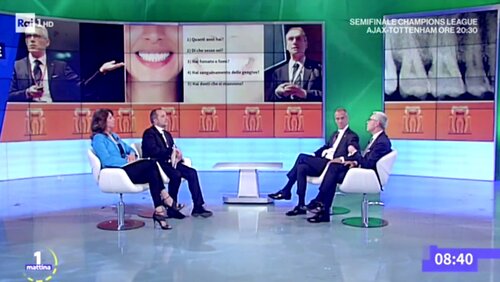 The Italian Society of Periodontology and Implantology (SidP) celebrated Gum Health Day 2019 with a campaign addressed at the Italian population, providing information about the importance of preventing and treating periodontal diseases.
The campaign, which used written and graphic material provided by the EFP for this year's awareness day, included a television interview, a widely distributed press release, and material published on the society's social-media pages.
Rai 1, Italy's main public-service television channel, broadcast an interview about gum health with SidP president Mario Aimetti and president-elect Luca Landi.
The SIdP issued a press release about Gum Health Day via the Associated National Press Agency (ANSA) – the biggest press agency in Italy and the fifth biggest worldwide – with which it has had a partnership focued on gum health since January 2018.
Several Italian news and health websites ran reports based on the press release and information on periodontal health provided by the society.
The society also transmitted videos about gum health on the Facebook pages of the SIdP and its public-facing website gingivepuntorg, and provided information via Twitter.