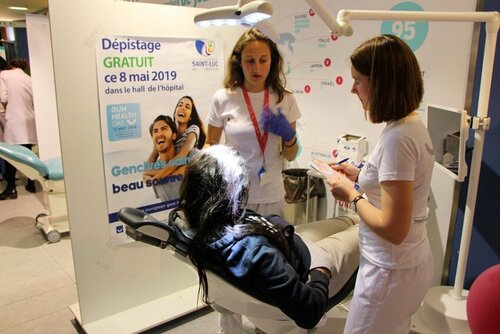 In the week leading up to Gum Health Day on May 12, the Belgian Society of Periodontology offered free periodontal screenings at hospitals in three cities: Brussels, Liège, and Leuven.
Teams of dentists and periodontists offered people screenings using the Dutch Periodontal Screen Index (DSPI) and they also explained the importance of good gum health.
In Leuven, 86 patients were screened, of whom 59 (69%) will require treatment. It was a similar story in Brussels, where 173 of 256 patients screened (68%) will also require treatment. In Liège, the percentage of people requiring periodontal treatment was higher: 147 of 209 patients (70%).
A total of 551 people were screened, with treatment recommended for 379 of them (69%).
There was also a strong media presence for Gum Health Day in Belgium, with members of the Belgian Society of Periodontology interviewed on both television and radio.